S O U T H W E S T   S E M I N A R S 2016
As a self-sustaining tax-exempt cultural educational organization Southwest Seminars is thankful for your support in our mission of service to cultural educational by attending our lectures, participating in our tours, and making a year-end donation. With a very successful year behind us we are grateful for our incredible friends and audience and the opportunity to be of service.
In 2016 Southwest Seminars hosted 50 public lectures attended by 80-120 folks weekly at tribal-owned Hotel Santa Fe. The Monday night lectures feature exceptional scholars in the fields of Archaeology, Southwest History, Native Culture and Natural Sciences who share primary research with an engaged audience of Santa Fe locals and visitors. Since our founding in 1997 we have offered over 1,000 public lectures and hundreds of field study tours. Our efforts provide public exposure to scholars of primary research and engage members of our community in important issues.
In 2016 Southwest Seminars conducted numerous Travels With a Scholar study tours accompanied by exceptional scholars. Our participants hiked Ojo Caliente and Abiquiu while learning about the geology of the region, observed and studied the significance of the full moon event at Chimney Rock,  visited Pueblo homes and witnessed ceremonial dances at Jemez, San Ildefonso and Hopi, learned about ancestral agricultural fields along the Chama River by raft and the living ancestral fields of Tesuque by foot. We learned about the archaeology and history of ancient sites of Palisade Ruins, K'uuyemugeh, Homol'ovi and San Cristobal. We took a step back in time riding the train to Winslow, staying at historic La Posada and visiting Native friends and artists in Hopi. Educational programming and lectures were provided to UCLA, New Mexico Humanities Council and important private groups.
Southwest Seminars is committed to sensitive cultural education and we work with others who share the same commitment. In spring of 2016 we partnered with Archaeology Southwest on Mounds and Migrants:A Clash of Religions in the late Hohokam World, a study tour of Salado migration patterns and cultural sites in southern Arizona. In the fall of this year we collaborated with the Indian Arts Research Center at School for Advanced Research to honor Native art and artists in our Native Culture Matters lecture series.
We would be grateful for your financial support in any amount for our educational programing. A tax-deductible gift by check should be made to Southwest Seminars and sent to 219 Ojo de la Vaca, Santa Fe, New Mexico 87508.
We look forward to seeing you in the coming year and are excited about our upcoming programs. Please share Southwest Seminars schedules with your friends or suggest they sign up for our occasional newsletters, tours and visit our website to learn more. Thanks for your amazing support and know how much you mean to both of us at Southwest Seminars, a non-profit  501c3 educational organization.
Connie Eichstaedt and Alan Osborne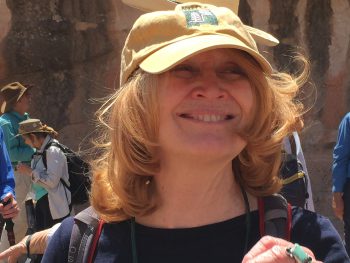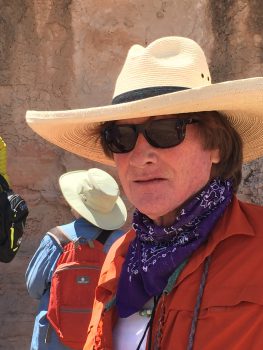 SOUTHWEST SEMINARS is an educational non-profit organization 501(c)3 that specializes in developing programs in Southwest studies: including history, archaeology, art, literature, natural history, geology, ecology, biology, cultural affairs, and other Southwest studies which are sensitive to the multi-cultural heritage and community traditions of its people, for the benefit of residents, visitors, individuals, and groups.  Its purpose is to educate, foster and encourage awareness, as well as to heighten cultural sensitivity in the Southwest through seminars, lectures, conferences, educational and cultural tours.
CONNIE EICHSTAEDT, native New Mexican, is the director of Southwest Seminars, an educational nonprofit that develo
ps programs in Southwest Studies through educational lectures and cultural tours for the local community and for organizations such as Archaeology Southwest, Princeton, Yale and UCLA Alumni organizations, The Palace of the Governors, The Archaeological Conservancy, The Office of Archaeological Studies, Museum of Indian Arts and Culture, American Orient Express and Tony Hillerman Indian Country Tours. In addition, she has wonderful stories to tell about the experience of building her adobe home in the country.
ALAN OSBORNE, co-founder of Southwest Seminars and native of Oklahoma, was  educated at Oklahoma State University and completed his Master's coursework (UNM) in American Indian history and Spanish Colonial borderlands. His academic teaching and public lecturing specialties are American Indian history, Spanish Colonial
borderlands frontier history, and Mexican-American territorial history.
Alan has presented educational guest lectures for American Philosophical Society, Museum of Indian Art and Culture, Wheelwright Museum of the American Indian, Council on International Relations, The Palace of the Governors, Western United States Attorneys General, Federal Administrative Law Judges, U.S. Senate-Canadian Parliament Bilateral Trade Commission, the National Trust for Historic Preservation. Alan was the New Mexico State Director of Elderhostel for 12 years. He has  toured with educational study groups such as Yale Alumni Association, UCLA Alumni Association, Princeton GeoGrads, The American Orient Express/American Museum of Natural History, Smithsonian Travel Associates, Council on International Relations.
SOUTHWEST SEMINARS CREATES EDUCATIONAL PROGRAMS that raise awareness and interest in the cultures and rich history of New Mexico and the Southwest. Founded in 1997 we fulfill our mission in a number of ways. Southwest Seminars sponsors lectures 50 Mondays a year working with regional experts, authors, Native American and Hispanic cultural ambassadors. We provide speakers for community and corporate groups. Southwest Seminars received the 2008 Historic Preservation Award for our community lectures in Anthropology and Archaeology. Endorsed by the Cuarto Centenario Committee in 1998 and by Santa Fe's 400th Committee in 2008 our lectures have been attended, at last count, by over 80,000 people.
WE CREATE EDUCATIONAL TRAVEL PROGRAMS for academic groups such as: Archaeology Southwest, Amerind Foundation, UCLA Alumni Travel, Yale Alumni Association, Princeton GeoGrads, Association of Federal Law Judges.
SOUTHWEST SEMINARS' PROGRAMS frequently honor or benefit the work of other non-profits including; The Archaeological Conservancy, School for Advanced Research, Indian Arts Research Center, Picuris Pueblo Kiva Restoration Fund, Palace of the Governors, New Mexico History Museum, Office of Archaeological Studies, Museum of Indian Arts and Culture, Museum of New Mexico Foundation, New Mexico Environmental Law Center, Galisteo Basin Coordination Committee, Indigenous Language Institute, , Native American Rights Fund, Smithsonian National Museum of the American Indian, American Indian College Fund and Vecinos del Rio. Southwest Seminars, participants and instructors in our programs donated over $45,000 to many of these wonderful groups.
Southwest Seminars has received financial support from the New Mexico Endowment for the Humanities, Los Alamos National Laboratory Foundation, The Lamar Morse Charitable Trust, the City of Santa Fe and participants of Southwest Seminars programs.
Permissions:  Most of the photos on this site came from our camera, but a few came from family, friends or students over many years.  Beautiful images have come to SWS from Dr. Linda Cordell, John Potter, Dr. Frances Levine, Dr. Wendell Harris, Dr. Kirt Kempter, Sandia Johnson. Michael Buchheit and Richard Moeller, Historical Postcards, Chimney Rock National Monument, Museum of New Mexico. Jesse Nusbaum, Anglers Guide. If we have missed acknowledging you, contact us for proper credit.