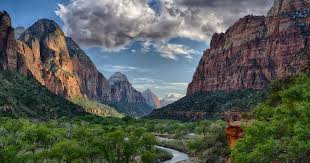 HIDDEN IN THE SHADOW OF ZION
GEOLOGIC JEWELS WITH DR. KIRT KEMPTER
MARCH 12-18, 2019

Join Southwest Seminars and popular geologist and geo-educator, Dr. Kirt Kempter, for a week of spring hiking in spectacular Colorado Plateau country in and around Zion National Park. Kirt has hiked and explored this region extensively and will guide us on his favorite trails many of which are well off the beaten path. Our base for exploration will begin in St. George, UT at the elegant Inn on the Cliff hotel and end at the historic National Park Service cabins within Zion National Park.
Navajo sandstone will be our geologic focus. This sedimentary unit represents the largest known lithified erg deposit in the world and is approximately 2,200 feet thick at Zion National Park.  The vast dune field was active bet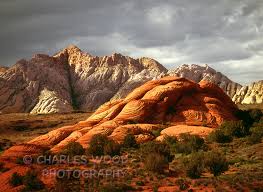 ween 190-180 million years ago and covered much of present day Utah and extended south into Arizona and north as far as Wyoming.  We will examine in detail the sedimentary structures preserved in the deposits, including herringbone crossbedding, liesegang banding, soft-sediment deformation, and diagenetic concretions. Throughout our journey Kirt will present the geologic stories told by the rocks and landscape including ancient oceans, swamps, rivers, and sand dunes that have all experienced their place and time on the Plateau. This tour provides the perfect outdoor classroom to discuss fundamental concepts of geology and how ongoing geologic processes have shaped the modern landscape of the Colorado Plateau.
Our geologic explorations begins on the first day at Snow Canyon State Park, less well-known than Zion and therefore less often explored, where we will observe a geologically young volcanic lava flow that poured into a stunning canyon carved into the Jurassic Navajo sandstone followed by a visit to the intriguing Dinosaur Discovery Site at Johnson Farm. The next two days we continue to explore beautiful formations, tex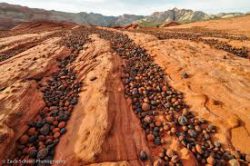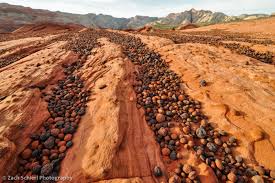 tures, and vistas in the Navajo Sandstone on hikes in the Red Cliffs National Conservation Area northeast of St. George. Having spent three active days in St. George we depart for Zion National Park, with hikes along the way, the Virgin Anticline in the morning and Kolob Terrace in the afternoon before arriving in Zion. There we spend two nights and have another full day to exploring one or more of Kirt's favorite trails in Zion's main canyon. En route back to Santa Fe, there will be a visit to Antelope Canyon east of Page, Arizona. This stunning slot canyon has become a photographic icon of the Colorado Plateau and we will be accompanied by Kirt along with a local Navajo guide.
This moving study tour begins in St. George, Utah on Tuesday, moves through Zion and ends in Paige Arizona on Monday. We will meet at the award winning boutique hotel, Inn on the Cliff, our base for four nights for the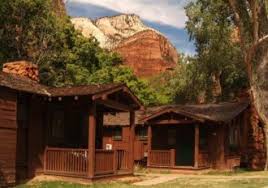 exploration of beautiful Snow Canyon and Red Cliffs National Conservation Area for the next three days. On Saturday after two scenic hikes we arrive at Zion for for two nights in individual historic cabins in the heart of Zion Park. a unique opportunity. Compete with gas log fireplaces and a private porch we promise a bit of quiet time to enjoy the majesty of one of our favorite National Parks. On Monday we visit Antelope Canyon for one last photo opportunity before driving back to Santa Fe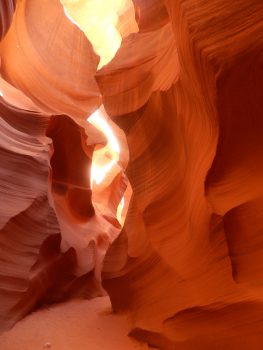 Fabulous restaurants are sandwiched between morning and afternoon hikes and are combined with lots of time with everybody's favorite study leader Dr. Kirt. This journey includes hikes that range from easy to moderate and are 2 to 4 miles round trip. This seven day, six night trip includes all lodging, meals, admissions and honorariums.  Double Occupancy: $2600, Single Occupancy $600
A GRAND EXPEDITION: RAFTING THE GRAND CANYON
WITH GEOLOGIST WAYNE RANNEY AND ARCHAEOLOGIST DR. JOHN WARE

MAY 17-25, 2019 –  FILLED
SEE: TRAVELS 2020 FOR RAFTING THE GRAND CANYON ENCORE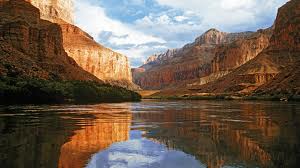 THERE ARE MANY WAYS TO SALVATION AND ONE OF THEM IS TO TO FOLLOW A RIVER.  DAVID BROWER
Join Southwest Seminars for the experience of a lifetime led by Geologist Wayne Ranney, author of " Carving Grand Canyon" and social anthropologist, Dr. John Ware and featuring 7-days rafting the Colorado River through the legendary Grand Canyon and 6-nights camping under the stars. We raft into the Canyon beginning at Lee's Ferry and exit the canyon via scenic helicopter and private charter airplane. The trip includes hotel lodging and dinner the night before the excursion as Wayne and John set the stage for our grand adventure and another night and dinner after the trip wrap-up as we celebrate our amazing journey through the vividly colored Grand Canyon, a 7-day study tour on the most coveted raft trip in the world.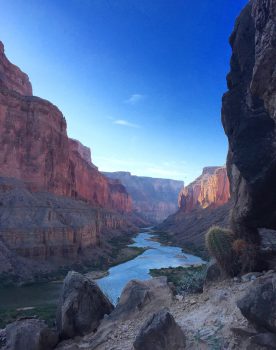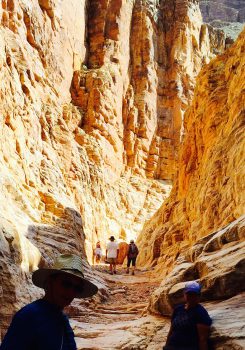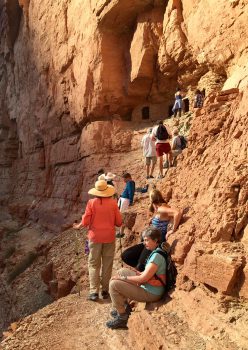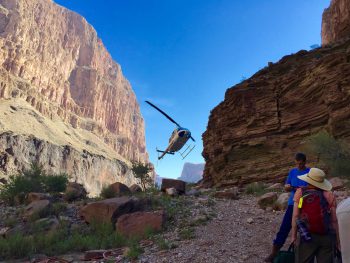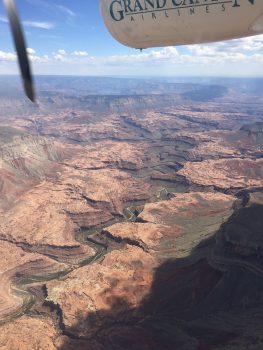 Learn the story revealed in the thick sequence and variety of rocks exposed in the walls of the canyon which provide a record of the Paleozoic Era (550-250 million years ago). View scattered remnants of Precambrian rocks at the bottom of the Canyon. Discuss the origin of the canyon and how the complexity of erosional features of the Colorado River and precipitation created and continue to shape the canyon. Learn about the variety of species of mammals, reptiles, fish and birds that make the Grand Canyon home, including many threatened and endangered species and plants that have found a refuge in the Park's protected lands. Discover the more than 5,000-year human history and native importance of the canyon to ancestral Pueblo, Hopi, Havasupai, Navajo, Hualapai, Paiute and Zuni tribes. Follow the story of the pioneering journey in 1869 of John Wesley Powell down the river. These features have made Grand Canyon National Park a World Heritage Site, a designation honoring its natural and cultural resources, a shared inheritance for all mankind.
Wayne Ranney is a noted and popular Geology Educator and Author, Carving the Grand

Canyon and Co-Author, Ancient Landscapes of the Colorado Plateau. He holds an M.A.in geology from Northern Arizona University and has led many tours into the Grand Canyon and the Colorado Plateau region for: Museum of Northern Arizona, Grand Canyon Field Institute and Smithsonian Travel, and Around the World geology study tour with Nat Geo by private jet. Wayne is in great demand as both a public lecturer and study leader, always attracting a packed house at his Southwest Seminars Monday night presentations. His Grand Canyon tours are always sold out so we are delighted and exceptionally fortunate to have Wayne at the helm of our river excursion.
Dr. John A Ware is a distinguished Southwest archaeologist and social anthropologist. He served as Executive Director; Amerind Foundation and was foun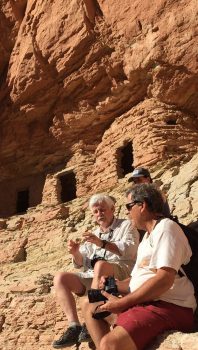 ding director, NM Museum of Indian Arts and Culture. He is an author, A Pueblo Social History: Kinship, Sodality and Community in the Northern Southwest. As a study leader, John has led many tours throughout Indian Country and has for many years studied the social organization of Eastern Keres Pueblo peoples along the Rio Grande corridor. At Amerind, he sponsored many symposia featuring prominent scholars who gathered on campus to meet and discuss issues in Southwest anthropology, archaeology, and ethno-history while sharing ideas and new research which produced cutting-edge books on research topics.
 Trip Description: The Colorado River is The Best Known Rafting Location in the World. Our 190-mile trip between Lee's Ferry and Whitmore Wash has been selected by Wayne as it coversthe most scenic and geologically significant sites within the canyon in just the right balance of time on the river and off-river site exploration. We begin our journey with slow moving rapids, which increase in intensity as we travel further into the Canyon. There is plenty of whitewater excitement, including some of the most famous "drops and falls" in the world: Horn Creek, Hermit, Crystal and Lava Falls. We'll hike beautiful side canyons with cascading waterfalls, turquoise pools, and the cooling shade of hidden grottos and enjoy stargazing at night. Visit interesting historical sites only accessible by the river, study unique geological features, and gain a comprehensive educational perspective on the geology and natural history of this majestic canyon. Marvel at ever-changing vistas and panoramas revealed at each twist and turn of the river. Along with the amazing scenery and geo-education we'll enjoy periods of profound peace as we drift quietly through narrow corridors of polished granite.
Trip Details: The trip will be in 37 foot motored raft as they are more comfortable and safer for thi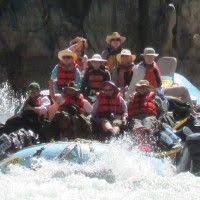 s kind of expedition and the preferred mode for this river excursion by Wayne. The motors are quiet and able to be turned off as opportunities for drifting allow. Our highly recommended outfitter, Colorado River & Trail Expeditions (CRATE) has been in business since 1971 and features knowledgeable, trained and experienced river guides, who are excellent outdoor chefs, enthusiastic river companions and certified in CPR, Wilderness Medicine and River Rescue. The weather is usually pleasant in May. When it is hot, it will make those rapids so much more welcoming. Random thunderstorms might result in amazing waterfalls off the rim or cactus blossoms along our journey. Our trip begins (1st day) with a welcome dinner and lecture by Wayne Ranney and Dr. John Ware at Cliff Dwellers Lodge in Marble Canyon, Arizona.
An active trip that involves 7 days of hiking, whitewater boating, 6-nights of camping under the stars. (Days #2-8)
Our put-in is Historic Lee's Ferry, 13 miles below Glen Canyon Dam.
Entering Grand Canyon, within the first few miles we begin our descent though geologic layers traveling 78 miles by river to the bottom of this great stack of rocks.
Run Badger, Soap Creek and House Rock rapids.
Float deeper into the Marble Canyon section of the river and see lush green spring of Vasey's Paradise stopping at Redwall Cavern, a vast alcove that J.W. Powell estimated would seat 50,000 people.
Hike to ancestral Puebloan habitation sites, rock art sites or granaries. Hikes optional (but recommended).
The canyon is truly grand as we float downstream to the turquoise blue waters of the Little Colorado River, the spiritual birthplace of the Hopi Fourth World. The canyon begins to open up as we encounter Tanner, Unkar, Nevills and the formidable Hance Rapid.
We reach some of the biggest whitewater in the canyon as we enter the Inner Gorge.
Make a quick stop at Phantom Ranch, designed by architect Mary E. Jane Coulter in 1922 as a tourist camp, it's style later adapted to most other National Park Service locations.
On one of the biggest whitewater days in the canyon, a stretch of river known as the "Jewels", we encounter Crystal, Sapphire, Turquoise and Ruby rapids
Enjoy hiking to the green haven of clear pools, lush moss and ferns at Elves Chasm
View an excellent example of the geological phenomenon, the Great Unconformity, at Blacktail Canyon
Enter the Middle Granite Gorge and a series of exciting rapids – 128 Mile , Specter, Bedrock and Dubendorf.
Enter the Granite Narrows, the canyon's narrowest point and visit Deer Creek Falls for a refreshing dip in the clear pool beneath the falls.
Hike the limestone terraces and the travertine pools and waterfalls of Havasu Canyon.
Raft the notorious Lava Falls in the depths of the Grand Canyon near the end of our journey.
Arriving at Whitmore Wash, we board a helicopter for a scenic flight out of the canyon, followed by charter flight return to Marble Canyon for farewell dinner w/ Wayne in those often dreamed about beds. (Day #8)
Departure following breakfast the next morning (Day #9)
Includes: 9 days and 8 night tour includes: Full outfitter services for 7 full days of rafting in 37' motorized rafts, 6-nights deluxe camping including cots, foam pad, sleeping bags, chairs, tents (and stars), 2 nights lodging at Cliff Dwellers Lodge, all meals at the lodge and on the river. Helicopter/airplane flight transfer back to Lee's Ferry. Study Leader honorarium, river guide gratuities, admission, fee for our services.
Cost: Double Occupancy: $4700 per person, Single Occupancy $4800
$500 pp deposit to reserve. Balance Due February 1, 2019
Contact Southwest Seminars for Registration Packet
Contact Southwest Seminars to reserve your space in any Study Tour
219 Ojo de la Vaca, Santa Fe, New Mexico 87508
Phone: (505) 466-2775       E-mail: Southwestseminar@aol.com
Website: SouthwestSeminars.org