SOUTHWEST SEMINARS PRESENTS
MAY VOICES: 2022 LECTURES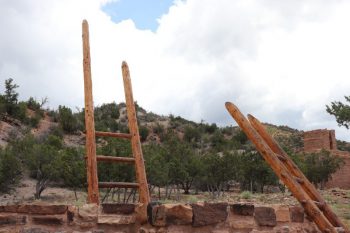 MONDAY NIGHTS 6 PM AT HOTEL SANTA FE
IN HONOR OF THE ARCHAEOLOGICAL CONSERVANCY
A PUBLIC PROGRAM GRACIOUSLY ASSISTED BY HOTEL SANTA FE, A PICURIS PUEBLO ENTERPRISE
May 9   Matthew Barbour
NOTE: Held at Santa Fe Woman's Club – 1616 Old Pecos Trail
Regional Manager, Coronado and Jemez Historic Sites, New Mexico Department of Cultural Affairs; Research Associate and former Project Director, New Mexico Office of Archaeological Studies; Recipient, 2012 & 2014 City of Santa Fe Heritage Preservation Award; Author: 200+ Nonfiction monographs/articles.
Native American Conquistadors: Mesoamerican Conquest of the New World
May 16   Harriet 'Rae' Beaubien
Objects Conservator; Adjunct Faculty, Museum Studies Program, University of New Mexico; Senior Conservator Emerita & Research Associate, Smithsonian Museum Conservation Institute; Field Conservation Projects in Central America, Central/South Asia, Eastern Mediterranean & Middle East; Recorder, Mesa Prieta Petroglyph Project; Site Steward, Santa Fe National Forest.
Surprising Finds from a Classic Maya Site: Recovery and Rediscovery
May 23   Dr. Linda A. Brown
Adjunct Research Assistant Professor, Department of Anthropology, University of New Mexico; Research Associate, Department of Anthropology, The George Washington University; Board of Directors, Member at Large, Mesa Prieta Petroglyph Project. Co-Principal Investigator at Say Kah, Belize, a Classic Maya site; Investigations in El Salvador, Honduras, Mexico and the United States.
Dream Bundles: Cultural Preservation & Contemporary Maya Ritual Practitioners  

May 30   Dr. Stephen H. Lekson
NOTE: Held at Santa Fe Woman's Club – 1616 Old Pecos Trail
Curator of Archaeology (ret.), University of Colorado Museum of Natural History; Research career focused on Chaco in the Four Corners and Mimbres in southern New Mexico with "occasional forays into other times and places". Author of a dozen books, including A Study of Southwest Archaeology (2018).
Azteques, Cliff-Dwellers, Anasazi, Ancestral Pueblo…What's in a Name?
$20 at-the-door or $75 to Subscribe to the Series of 4 lectures and to Reserve your Space
Covid Vaccinations/Booster required-Limited Seating
With Support from New Mexico Humanities Council