SOUTHWEST SEMINARS PRESENTS
NOVEMBER VOICES 2022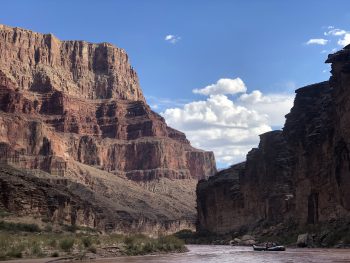 MONDAY NIGHTS 6 PM
LECTURES – 50 MONDAYS A YEAR (ALMOST)
A PUBLIC PROGRAM GRACIOUSLY ASSISTED BY HOTEL SANTA FE, A PICURIS PUEBLO ENTERPRISE
November 7 Wayne Ranney, M.S.
Geologic Interpreter, Lecturer, Tail & River Guide, & Author, Carving Grand Canyon, Ancient Landscapes of the Colorado Plateau, Defining the Colorado Plateau, Canyon Country, The Verde Valley: A Geologic History, and Sedona Through Time. Former research assistant, Museum of Northern Arizona, Adjunct faculty, Yavapai College. Travels led to the Amazon, Canadian Arctic, Greenland, Gobi Desert, Russian Far East, North & South Poles, & throughout the Colorado Plateau. Wayne's favorite classroom is the out of doors. "Education is my passion, Earth is my playground, Landscape is my home."
Birth & Evolution of the Colorado River: Going with the Flow
November 14 Dr. James Elliot Snead
Archaeologist, Historian and Professor of Anthropology, California State University-Northridge; Author, Ruins and Rivals: The Making of Southwest Archaeology; Ancestral Landscapes of the Pueblo World; Burnt Corn Pueblo: Conflict & Conflagration in the Galisteo Basin, 1250-1325; Relic Hunters: Archaeology & the Public in 19th C. America. Recipient, Merit Award, Arizona Archaeological and Historical Society; Presidential Recognition Award Society for American Archaeology. "A Santafesino!"
An Erased Woman of Southwest Archaeology: Alice Palmer Henderson
November 21 Dr. Keith M. Prufer
Environmental Archaeologist; Professor of Anthropology, & Director, Environmental Archaeological Laboratory, Department of Anthropology, University of New Mexico; Author, 'Communities, Caves, & Ritual Specialists: A Study of Sacred Space in the Maya Mountains of Southern Belize'; Co-Author, 'Demographic Growth and Decline Track Climate Change at a Classic Maya Center', in Progress in Physical Geography; 'Drought-Induced Civil Conflict Among Ancient Maya, in Nature Communications.
New Perspectives on Early Food Production in the Mesoamerican Neotropics
November 28 Dr. Eric Blinman
Archaeologist & Director, Office of Archaeological Studies, Department of Cultural Affairs. Participant, 2007 World Colloquium hosted by King Carl XVI of Sweden on human survival strategies to climate change; Former Acting Director, Museum of Indian Arts and Culture. Involved in Western archaeology since 1967, specialties include pottery technology, paleoclimate studies, yucca & basketry textiles. Joining OAS in 1988, Eric is known as an educator's educator and often says: "Never a Dull Moment!"
Innovations in Radiocarbon dating, Archaeomagnetism of Burned Rocks, a Collaborative Approach in Human Burial Studies, & Multicultural Education for all New Mexicans!
$20 at the door – or – $75 to Subscribe to the Series of 4 Lectures
Southwest Seminars is a 501 (c)(3) educational non-profit
Southwest Seminars, 219 Ojo de la Vaca, Santa Fe, New Mexico 87508
Phone: (505) 466-2775     E-mail: Southwestseminar@aol.com        Website: SouthwestSeminars.org
COMMITTED TO SENSITIVE CULTURAL EDUCATION AND WORK WITH OTHERS WHO SHARE THE SAME COMMITMENT