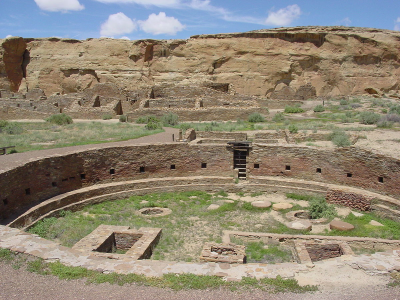 BEYOND DOWNTOWN CHACO: PUEBLO PINTADO, TSIN KLETSIN AND PUEBLO ALTO
WITH DR. JOHN WARE
OCTOBER 13-15, 2021
Chaco Canyon, the center of the 'Chaco World', has inspired and puzzled generations of archaeologists. Who lived in this seemingly desolate place and why? What did they do here? What was their connection to distant pueblos with similar architecture?   Our Study Leader is Dr John Ware, social archaeologist and founding director, New Mexico Museum of Indian Arts and Culture, and former Executive Director, Amerind Foundation. John will discuss these and other important topics and questions during our extended time in the canyon as we learn about 'downtown Chaco' and less visited sites within the larger Chaco region and world.
Explore the magnificent Great Houses of Pueblo Bonito, Chetro Ketl and impressive nearby petroglyph panels.  We'll have time to settle into our camp, our home for the next two days, before a campfire talk with John as he reviews Chaco archaeology, ideas, and theories developed over a century of research by leading scholars.
On Friday we hike the (5 mile/4 hour) North Mesa Trail Loop, climbing the rocky steps hidden in the cleft behind Kin Kletso, to Pueblo Alto located adjacent to the Great North Road and other radiating road segments. See the famed Jackson Staircase carved into the sandstone cliff. Learn about the Great Kiva of Casa Rinconada, the largest in Chaco Canyon. Enjoy a special Night Sky Program which will include a presentation on archaeoastronomy, cultural history and a telescope viewing of celestial objects.  On Saturday we hike the South Mesa Trail Loop (3.6 mile/3 hour) to Tsin Kletsin, an outlier with a sweeping view of the canyon.  We tour the Great House Pueblo Pintado with massive standing walls before our evening return to Santa.Fe.
 Our 3-day 2-night visit will be centered at the Chaco Culture National Park campground where our outfitter provides a deluxe  camping experience including catered delicious food with on-site shelter under the stars and night sky pantheon. With less driving back to town for overnight lodging in town we see more nature, birds, plants, landscape, and sky…basically the full day and night Chaco experience featuring 2 scenic backcountry trails while still exploring impressive large great houses within 'downtown' Chaco Canyon.
An active trip with mostly moderate hikes but 1 steep rocky ascent/descent. Includes comfortable camping gear (tents, sleeping bags and pads), all meals, admissions, study leader honorarium, and our services. Our program requires special permission from Chaco Culture National Historic Park, a UNESCO World Heritage Site.
$850 Per Person      $250 Deposit to Reserve   Balance Due: August 1, 2021      No Charge for the Stars
Contact Southwest Seminars to Reserve
Completed Covid vaccinations will be required for all 2021 Southwest Seminars Tours.