Postponed Due to an Abundance of Caution for Covid-19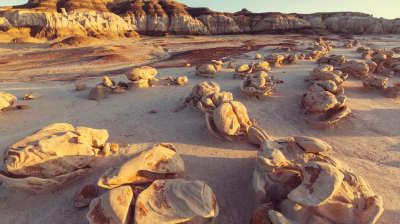 EXPLORING THE BISTI BADLANDS WITH DR. KIRT KEMPTER
APRIL 16-17, 2020
The Bisti/De-Na-Zin Wilderness badlands is 'one of the most austere and other-planetary places on earth…walking among its weirdly weathered rocks is to 'know what it would feel like to stroll through a garden on Mars'. For one noted photographer of the Bisti Badlands, Eduardo Fuss, it was the site of a wilderness epiphany that compelled him to return again and again, keeping a visual photographic diary of 'the haunting and elegiac moments that revealed themselves. And yet, as a landscape set in stone…the Bisti is very much alive.' Historically mined for its coal deposits, the Bisti was set-aside as a federally protected wilderness area in 1985.
In Navajo, Bisti refers to shale hills and De-Na-Zin means cranes. Containing some of the most spectacular and bizarre geologic formations in New Mexico, including gravity-defying hoodoos and multi-hued shales, the stacked layers, or formations within this 45,000 acre wilderness area show a continuous record of ancient environments, formed between 75 and 65 million years ago, with episodes of uplift and erosion, inland seas, shorelines, estuaries, large forested river deltas, meandering steams, bogs, and numerous fresh-water lakes leaving evidence of early mammal fossils, dinosaurs, petrified wood caches, and periodic volcanic ash showers. Filled with multi-colored ash created by iron, manganese and crystal-forming silicates, Bisti has been described as a paleontological treasure trove!
We convene in Cuba, New Mexico, and convoy to the De-Na-Zin parking area. After a picnic lunch, we will offer a 4 mi. moderate hike in the afternoon led by Kirt, offering plenty of time for on-site educational lectures, photographic moments, and awe-inspiring sacred landscape.  Following our hike we drive to Bloomfield for our overnight. We dine together after arrival and check-in, followed by a good night's rest. The next morning, we'll drive to the Bisti parking area where we embark on a 5-6 mi. (level) hike to marvel at the unique and beautiful scenery. We enjoy more spectacular scenery and outdoor geology talks as Kirt explains the area's geologic strata and formations. Following our hike we depart late afternoon for an anticipated early evening return to Santa Fe. Tuition includes lodging at the Best Western in Bloomfield, all meals, (two lunches, breakfast and  dinner at Kirt's fav restaurant), federal lands admission fees, study leader honorarium and Southwest Seminars services.
$575 per Person Double Occupancy, $625 Single Occupancy 
Contact Southwest Seminars to register
 $250 Deposit to Reserve      Balance due March 16