Southwest Seminars Presents
HIDDEN IN THE SHADOW OF ZION
WITH DR. KIRT KEMPTER
NOVEMBER 2-8, 2021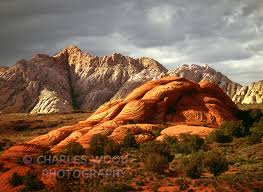 Join Southwest Seminars and popular geologist and geo-educator, Dr. Kirt Kempter, for a week of fall hiking in spectacular Colorado Plateau country in and around Snow Canyon and Zion National Park.  Kirt has hiked and explored this region extensively and will guide us on his favorite trails many of which are well off the beaten path.  Our base for exploration will begin in St. George, UT at the charming Inn on the Cliff hotel and end at the historic National Park Service cabins within Zion National Park
Navajo sandstone will be our geologic focus. This sedimentary unit represents the largest known lithified erg deposit in the world and is approximately 2,200 feet thick at Zion National Park.  The vast dune field was active between 190-180 million years ago and covered much of present-day Utah and extended south into Arizona and north as far as Wyoming.   We will examine in detail the sedimentary structures preserved in the deposits, including herringbone crossbedding, liesegang banding, soft-sediment deformation, and diagenetic concretions.
Throughout our journey Kirt will present the geologic stories told by the rocks and landscape including ancient oceans, swamps, rivers, and sand dunes that have all experienced their place and time on the Plateau.  This tour provides the perfect outdoor classroom to discuss  fundamental concepts of geology and how ongoing geologic processes have shaped the modern landscape of the Colorado Plateau.
Our geologic explorations begins on Tuesday the first day  at Snow Canyon State Park, less well-known than Zion and therefore less often explored, where we will observe a geologically young volcanic lava flow that poured into a stunning canyon carved into the Jurassic Navajo sandstone followed by a visit to the intriguing Dinosaur Discovery Site at Johnson Farm. The next two days we continue to explore beautiful formations, textures, and vistas in the Navajo Sandstone on hikes in the Red Cliffs National Conservation Area northeast of St. George. Having spent three active days in St. George we depart for Zion National Park, with hikes along the way, the Virgin Anticline in the morning and Kolob Terrace in the afternoon before arriving in Zion.  There  we spend two nights and have another full day to exploring one or more of Kirt's favorite trails in Zion's main canyon.
The moving study tour begins in St. George, Utah on Tuesday and ends in Zion. We will meet at  the award winning boutique hotel, Inn on the Cliff, our base for four nights for the exploration of beautiful Snow Canyon and Red Cliffs National Conservation Area for the next three days. On Saturday after two scenic hikes we arrive at Zion for for two nights in individual historic cabins in the heart of Zion Park. a unique opportunity. Compete with gas log fireplaces and a private porch we promise a bit of quiet time to enjoy the majesty of one of our favorite National Parks. Return home on Monday.
Fabulous restaurants are sandwiched between morning and afternoon hikes and are combined with lots of time with everybody's favorite study leader Dr. Kirt. This journey includes walks that range from easy to moderate and are 2 to 4 miles round trip.This seven day, six night trip includes all lodging, meals, admissions and honorariums, plus  time with everybody's favorite Study Leader and Rock Star Dr. Kirt Kempter.   Double Occupancy: $2600,  Single Occupancy $3200
Completed vaccinations will be required for all Southwest Seminars 2021 tours.