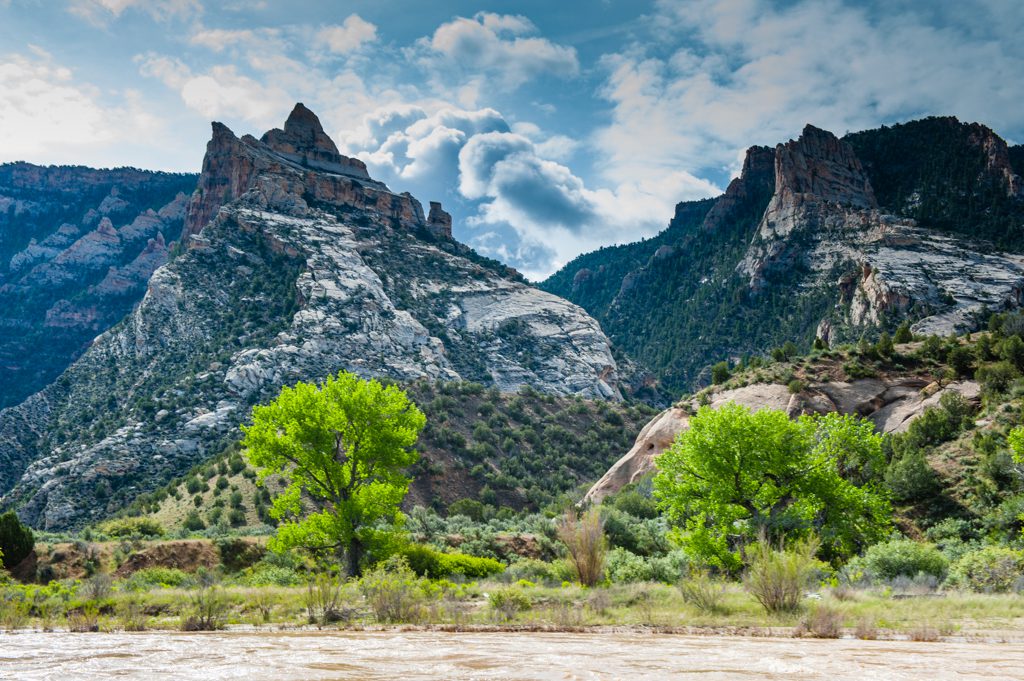 RAFTING THE YAMPA AND GREEN RIVERS
ROCKS AND RIVERS THROUGH TIME WITH DR. KIRT KEMPTER
DESERT ARCHAIC AND FREMONT CULTURES WITH DR. JOHN WARE
MAY 27-JUNE 3, 2021
JOIN Southwest Seminars, Dr. Kirt Kempter and Dr. John Ware for a geologic and archaeological journey on the scenic Yampa and Green Rivers through Dinosaur National Monument. This 7-day, 7-night trip begins with a welcome dinner the first evening followed by a land-based day exploring famous Fremont culture rock art panels and the renowned National Monument Dinosaur Quarry and nearby archaeological rock shelter site. Our trip highlight is five days rafting through 71 miles of vividly colored canyons while exploring prehistoric remote archaeological sites and 4 nights camping under the stars. We return to Vernal for a farewell dinner and one last overnight. The trip includes all lodging, meals, river and rafting arrangements and quality time with John and Kirt.
The Yampa and Green rivers in northern Utah have carved significant canyons, presenting world-class exposures of Paleozoic and Mesozoic rocks of the spectacular Colorado Plateau. This rafting expedition provides a perfect outdoor classroom for observing various rock strata while interpreting their geologic significance. Each layer of strata tells a story of landscape evolution, including ancient oceans, rivers, and vast deserts. These diverse geologic environments have all had their time on the Colorado Plateau. We observe the clues left behind in each strata that provide their own interpretation and story. Each sedimentary layer contains a record of fossil plant and animal life, providing a record of evolution through time as well as changing climatic environments.
On our journey through the Yampa and Green river canyons we will also witness geologic structures, such as anticlines, monoclines, faults and folds that provide clues as to the history of uplift of the Colorado Plateau as well as the timing of uplift events. We discuss theories involving plate tectonics that help us interpret the cause and nature of the uplift. Lastly, we will explore the geologic history of the Yampa and Green rivers, addressing questions such as: How long have these rivers existed? Where did they flow in the geologic past? How and when did they begin carving canyons into the Colorado Plateau?
DR KIRT KEMPTER is a Fulbright Fellow and holds his doctorate from University of Texas-Austin. He is a popular world-traveling vulcanologist and independent field geologist. He is much in demand as a study leader for organizations such as National Geographic, Smithsonian Journeys and Southwest Seminars. He worked for the New Mexico STATEMAP program studying the geologic history of Northern New Mexico and was an instructor for the NASA astronaut-training program. Kirt is the author of numerous maps/articles on geology of the Southwest and is an excellent fajita chef.
JOHN WARE is a distinguished Southwest archaeologist and social anthropologist. The author of A Pueblo Social History: Kinship, Sodality, and Community in the Northern Southwest (SAR Press, 2014), Ware was the founding director of Santa Fe's Museum of Indian Arts and Culture and served fourteen years as Executive Director of the Arizona's Amerind Foundation, where he sponsored nearly forty advanced seminars and edited over a dozen books on Southwest archaeology, anthropology, and ethnohistory. As a study leader, John has led many tours to Indian Country for Southwest Seminars, the Amerind Foundation, the School for Advanced Research, Crow Canyon Archaeological Center, and the Museum of New Mexico's Office of Archaeological Studies.
TRIP DESCRIPTION: We meet in Vernal, Utah on May 27, 2021. The following morning we visit the Dry Fork Creek Petroglyphs near Vernal, one of the most famous rock art sites in the Southwest. In the afternoon we will explore the Dinosaur National Monument and see fossils of dinosaurs and other creatures that date back nearly 150 million years and visit the Swelter Shelter an Archaic/Freemont rock shelter with petroglyphs.
The river trip will begin at Deer Lodge Park in Dinosaur National Monument. We float through the beautiful canyons of the Yampa River for three days, reaching the confluence with the Green River in Echo Park named by John Wesley Powell on his famous 1869 expedition. Along the way we'll see the remains of a pioneer's cabin, a series of pictographs in the Barrier Canyon style, and Serviceberry Shelter where Archaic hunter-gatherers camped millennia ago. We'll also hike to Mantle's Cave, a huge rock shelter where Fremont culture peoples stored an astonishing array of specialized items in storage cysts, now kept at University of Colorado Boulder
In Echo Park we'll hike to two Fremont petroglyph panels and along the way cool off in Whispering Cave. After rafting past some massive geologic formations, we'll enter Whirlpool Canyon, also described in Powell's account, and camp, as he did, at Jones Hole.
We'll hike up Jones Creek (good trout fishing) to Deluge Shelter, another Archaic camp, and view several striking Fremont pictograph/petroglyph panels of anthropomorphic figures. A short hike leads up Ely Creek to a waterfall.  On our final day, we'll emerge from the canyons for a leisurely float through Rainbow Park followed by an exciting ride through Split Mountain and its series of rapids. The Yampa is the only remaining free-flowing undammed tributary of the Colorado River and its flow level depends on the winter snow pack and spring runoff. We'll experience low and medium-level rapids as we go. Set among towering red cliffs and ancient ponderosa pines, we may see a variety of wildlife: deer, eagles and perhaps bighorn sheep along the shoreline if we are lucky.
DETAILS: Rafting will be in 18-foot oar boats with 4 guests to a boat. You may kayak for part of the trip if you wish. Our outfitter will be Dinosaur River Expeditions, family owned and locally operated in Vernal Utah and staffed by experienced and knowledgeable river guides that love sharing the beauty, history and wildlife of the mighty Yampa River of Colorado and the crystal clear waters of Utah's Green River below the Flaming Gorge. Our guides double as excellent outdoor chefs for our meals along the river. This an active trip that involves hiking, rafting and camping.
INCLUDES: This 7-day and 7-night tour includes: Full outfitter services for 5 days of rafting in 18' rowed boats including 4 nights camping (no charge for the stars). 3 nights lodging at Microtel Wyndham Inn and Suites in Naples/Vernal, Utah   (2 nights before the rafting trip and 1 night after). All meals in Vernal and on the river. Study Leader honorarium, all gratuities, all admissions and fee for our services.
Double Occupancy: $2850 per person  Single Occupancy: $3000
Sleeping Kit: Sleeping bag, pad & pillow $40 pp. Tents are $20 more.
Or bring your own gear.
TO REGISTER: Contact Connie at Southwest Seminars to Request a Registration Form.
Return signed forms along with $500 deposit
BALANCE DUE: By or Before March 15, 2021
Completed vaccinations will be required for all Southwest Seminars 2021 tours.