Join Southwest Seminars and anthropologist Dr. John Ware and Dr. Joe Suina for an active tour to remote sites in the remarkable Bears Ears National Monument. A rare opportunity to walk with respect among ancestral sites, great houses, granaries, kivas, towers, painted walls, gathering places, shrines and rock art, untethered by paved pathways and chained fences to marvel about those who created such beauty. B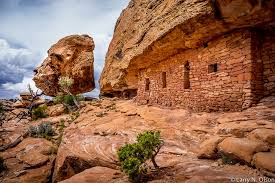 ears Ears National Monument is a vast region of rugged mesa and canyon country in southeastern Utah and contains over 100,000 archaeological sites—containing the ancestral footprints of diverse Puebloan, Paiute, Ute, and Navajo peoples. Much of the significance of these fragile cultural resources relates to the region's geographic isolation. The cultural landscape of the Bears Ears region figures prominently in the histories and oral traditions of many indigenous Southwestern peoples, and supporters are challenged to preserve and protect their heritage. Join us to learn about the cultural connections between modern Native Peoples and these sacred places now held in tribal songs and stories. Learn about the earliest pre-ceramic farmers of the northern Southwest, the distinctive red ware pottery manufactured in southeastern Utah and traded throughout the greater Southwest, the many historical connections between Bears Ears and Chaco Canyon ritual traditions, and the depopulation and migration of Ancestral Puebloans in the second half of the thirteenth century.
 JOESPH H. SUINA (Cochiti Pueblo,) is Professor Emeritus of Education, University of New Mexico and former Director of the Institute for American Indian Education. He has devoted much of his career to assessing student learning and developing training programs for educators who teach American Indian students. Former Governor and Tribal Council, member, he is also President and Chief Executive Officer of the Cochiti Community Development Corporation and Chair of the Cochiti Language Revival Committee.
JOHN A. WAREJohn Ware is a former director of the Laboratory of Anthropology/Museum of Indian Arts and Culture in Santa Fe and Executive Director of the Amerind Foundation in Dragoon, Arizona. The author of "A Pueblo Social History: Kinship, Sodality, and Community in the northern Southwest (SAR Press, 2014), Dr. Ware's recent research focuses on the evolution of Pueblo Indian social, ceremonial, and political organization.
TRIP DESCRIPTION: Learn about the history and the archaeology of the region and its cultural connections to modern Native American communities using Archaeology and Native American cultural understandings to inform the other. The trip begins on Sunday, October 1 at Edge of the Cedars State Park Museum in Blanding, Utah, where a personal tour sets the stage for the week to come as we learn about ancient textiles, sandals, vessels and tools used for ritual ceremony and everyday life.  We continue to our hotel in Bluff, Utah, our comfortable lodging for the next week. We spend the next five days immersed in ancient times on Cedar Mesa while hiking some of the best "off-the-beaten-path" backcountry spots while we learn about ancestral sites, petroglyphs and pictographs left by Ancestral Puebloans. We have 5 days hiking to some of the most celebrated sites including: Moon House, Citadel, Procession Panel, Monarch Cave, and Target, one of the oldest known cliff dwellings and whose rock art depicts special types of sandals and a winter solstice calendar. We also visit Arch Canyon Overlook, and Cave Towers as well as additional sites such as Fallen Roof, Wolfman Panel, and perhaps Bluff Great House or Salvation Knoll as time and interest allow. You return to Santa Fe after breakfast on Saturday,
DETAILS: Beautiful Bluff Dwelling Resort is our lodging for 6 nights. Designed to blend into the red rock landscape and inspired by classic P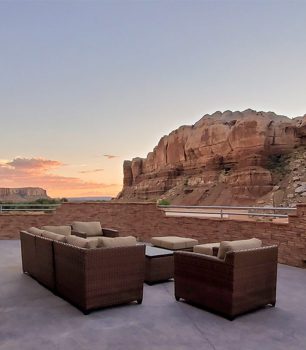 ueblo dwellings this innovative resort is the perfect spot for talks with Joe and John and will be a welcome retreat after active days hiking. Wild Rivers Expeditions are our outfitters for the trip, trained and experienced guides who will be driving our 4×4 vans and providing a helping hand over and around rocks. Meals are included, most often hotel breakfasts, picnic lunches during hikes, and dinners in a mix of casual or hip restaurant, and a sunset cook-out on Muley Point with its spectacular views of the Goosenecks of the San Juan River and Monument Valley just beyond. Participants must be in good health and able to hike up to 5 miles a day over rugged terrain and un-established trails with some altitude gain or loss, be mobile, stable and comfortable with rock scrambling, and definitely not afraid of heights. Your Cedar Mesa sites are located off dirt roads and usually include a bit of bouncing around in 4×4 vans driven by our outfitters to access the trailheads. A leisurely pace allows our study leaders to tell their story while viewing some of the most dramatic sites in Bears Ears.
Includes: 6 days activities and 6 nights lodging at Bluff Dwelling. Resort. Land expedition guides, 4×4 vans with drivers for transfer to the sites, 3 meals a day, as yummy as we can find, Study Leader honoraria, guide gratuities, admissions, special permits and fee for our services.
 $3500 Double Occupancy $4100 Single Occupancy. 
Deposit $1000.  Balance due August 1