Join Southwest Seminars, Dr. Joseph H. Suina (Cochiti) and Dr. John Ware for a tour of Galisteo Pueblo and San Marcos Pueblo, two of seven large pueblo villages in the Galisteo Basin just south of Santa Fe, founded in the late 1200-early 1300's AD. Both pueblos consist of several dozen stone and adobe room blocks enclosing multiple plazas. Early Franciscan mission churches were established at both pueblos and residents of both villages played active roles in the Pueblo Revolt of 1680 against Spanish colonization and forced missionization.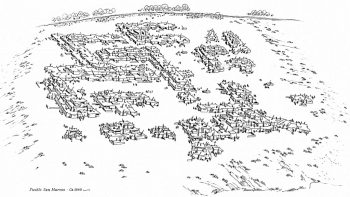 San Marcos Pueblo is located in close proximity to the Cerrillos Hills turquoise and lead deposits used in lead glaze paint pottery before European contact. Visited by early Spanish explorers, a mission church and a convento were built at San Marcos. When Spanish troops during the Reconquest of New Mexico arrived at San Marcos in 1693, the Pueblo had been abandoned, its occupants joining neighbors at Cochiti Pueblo along the Rio Grande where descendants are still found.
$175 PP.  Includes lunch, donation to The Archaeological Conservancy, honoraria for our scholars and fee for our services.