SOUTHWEST SEMINARS PRESENTS
TRAVELS WITH A SCHOLAR 2022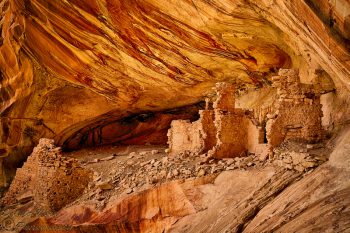 BEARS EARS AND THE SAN JUAN RIVER
WITH DR. JOHN WARE AND WAYNE RANNEY
APRIL 26 –  MAY 3, 2022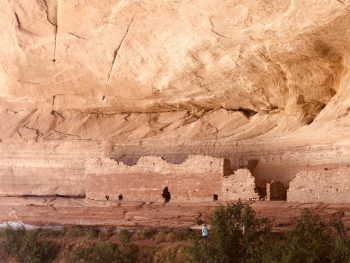 For centuries the Hopi, Zuni, Ute and Navajo lived among the sandstone canyons, hunted in mountain meadows and worshipped on the mesas. Ancestral Pueblolans built villages along the San Juan River. Filled with alcove cliff dwellings, great houses, kivas, towers, painted walls and rock art, this area is one of the most significant cultural landscapes in the Four Corners region.  Join Dr. John Ware, Wayne Ranney and  Southwest Seminars as we learn about the cultures that created such marvels and the mighty river they lived beside.
The sacred landscape of Bears Ears National Monument figures prominently in the histories and oral traditions of many indigenous Southwestern peoples.  Join us to learn about the cultural connections between modern Native Peoples and these sacred places now held in tribal stories and ceremonies. Learn about the earliest pre-ceramic farmers of the northern Southwest, the distinctive red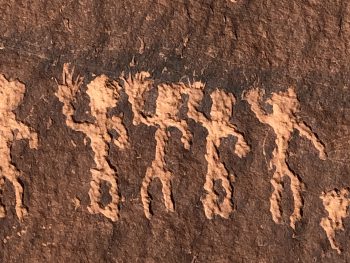 ware pottery   manufactured in southeastern Utah and traded throughout the greater Southwest, the historical connections between Bears Ears and Chaco Canyon and the migration and depopulation of Ancestral Puebloan agriculturalists in the second half of the 13th century.
The landscape encompassed by the Bears Ears National Monument and the San Juan River provides a superb "classroom" for the geologist, photographer, and lover of scenery. This high plateau and deep canyon country exposes over 300 million years of earth history, all laid bare by the erosive power of the San Juan River and its tributaries. Ancestral peoples were able to thrive here as a result of the area's splendid earthly heritage. This trip will blend the stories from the land and the people on this corner of the Colorado Plateau."  Learn about regional archaeology and geology while hiking and rafting to ancient sites and scenic wonders along the San Juan River within  the remarkable and recently restored Bears Ears National Monument.
DR. JOHN WARE  is a distinguished Southwest archaeologist and social anthropologist. Author of A Pueblo Social History: Kinship, Sodality, and Community in the Northern Southwest. He was founding director of Santa Fe's Museum of Indian Arts and Culture and former Executive Director of the Amerind Foundation in Dragoon, Arizona which sponsored many advanced cultural seminars and edited over a dozen books on Southwest archaeology, anthropology, and ethno-history. John has led study tours throughout the Southwest for Southwest Seminars, Amerind Foundation, School for Advanced Research, Crow Canyon Archaeological Center, and the Museum of New Mexico Office of Archaeological Studies.
WAYNE RANNEY is an award-winning geologic educator and author, Carving the Grand Canyon; Co-author, Ancient Landscapes of the Colorado Plateau. He holds an M.S. in geology from Northern Arizona University and has led many tours into the Grand Canyon and the Colorado Plateau region including  down the San Juan River for Southwest Seminars,, Museum of Northern Arizona, Grand Canyon Conservancy Field Institute plus Smithsonian Journeys and National Geographic world tours by private jet. Wayne is a very popular public lecturer and study leader.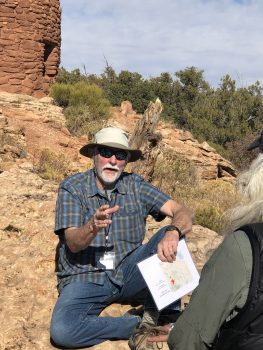 We gather in historic Bluff, Utah on Tuesday, April 26 to check into Bluff Dwelling Resort, our home for three nights. Designed to blend into the red rock landscape and inspired by classic Pueblo dwellings this innovative resort is the perfect spot for an introductory talk with John and Wayne followed by a welcome dinner together.  We spend the next two days exploring Southern Bears Ears with easy to moderate scenic hikes to Procession Panel, Monarch Cave and Wolfman Petroglyph. Wild Expeditions drives us to our hiking trailheads to explore and visit the sites with respect.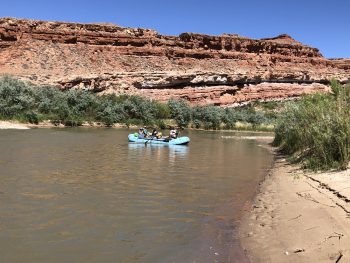 On Friday, April 29 we depart for our float excursion down the San Juan River, beginning at Montezuma Creek and finishing at Mexican Hat on Monday afternoon.  Experienced Wild Expeditions boatmen will lead us down the river, rowing our boats, sharing stories and preparing wonderful meals as we learn about the cultural history, geology, and natural history of the area. This scenic stretch of the river is especially noted for its ancestral Pueblo ruins and Basketmaker rock art panels, many only accessible from the river. Highlights include Citadel, a fortress-like pueblo with a commanding view over the river and riparian landscape; Sixteen-Room House, a long single-story cliff dwelling perched on a ledge in a huge alcove; Desecration Panel, a quarter-mile long series of petroglyphs; River House, another alcove pueblo believed to be ancestral to the Hopi Snake Clan; and a hike up Chinle Wash to Floating House and its colorful pictographs.
Floating through the fabulous Upper Canyon of the San Juan with its stunning geologic formations and marine fossils we pass the amazing balanced rock known as Mexican Hat. After camping along the river for 3-nights, we leave the river on Monday afternoon and return to Bluff for another night at Bluff Dwelling Resort and Spa, a hot shower, a visit to our favorite Cow Canyon Trading Post and a special farewell dinner with your new best friends. Return home after breakfast on Tuesday.
INCLUDES: This eight-day, seven-night trip includes lodging for 4 nights in Bluff (3 nights before the raft trip and on the night after) and 3 nights camping along the river, all meals at our favorite restaurants and on the river: full breakfast, picnic lunches and nice dinners, all fees for permits, admissions and rafting services, honoraria for study leaders and guides. Double Occupancy: $3200 Singles Occupancy: $3600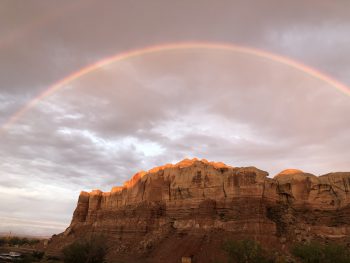 Full covid vaccinations and booster are required for all participants. We will follow Covid health and safety protocols as recommended at the time of the trip. The trip, itinerary or stops may change according to river, weather or Covid conditions.
To Register: Contact Southwest Seminars.      Email  southwestseminar@aol.com    Phone: 505-466-2775