SUPERVOLCANOES OF THE SAN JUANS
MOUNTAINS AND MINING TOWNS OF SOUTHWEST COLORADO
WITH DR. KIRT KEMPTER
JUNE 8-11, 2022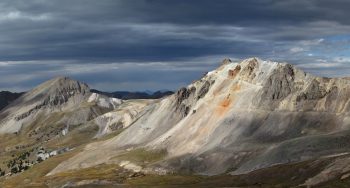 At least eighteen giant supervolcanoes erupted in southwest Colorado between 30-25 million years ago, forming much of the modern San Juan Mountains.  These eruptions left craters several miles in diameter including one of the largest known eruptions in Earth history, the La Garita caldera.  An estimated 5000 cubic kilometers was erupted ~28 million years ago, forming an elongated caldera ~ 46 x 23 miles in diameter.  Join Southwest Seminars and our world travelling volcanologist, Dr. Kirt Kempter, for a 4-day geologic exploration of the Creede region of southwestern Colorado, where four of these massive supervolcano eruptions occurred.
From Santa Fe we will head north, following the Rio Grande towards the San Luis Basin in Colorado.  En route we will take an easy 2-mile hike along the west rim of the Rio Grande Gorge and discuss the Ice-Age history of the river, including a vast fresh-water lake that filled the San Luis valley less than a million years ago.  Arriving at our destination in the afternoon we begin to appreciate the area's fascinating human history, including early hunter/gatherers, later Ancestral Puebloans, Utes, Spanish explorers, legendary Mountain men fur trappers, intrepid pioneers, tenacious miners, and outlaws, all of whom managed to leave an indelible presence in the lands through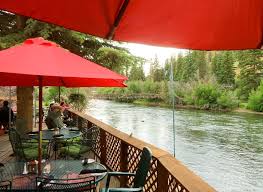 which we travel. Here we will enjoy a relaxing 3 nights at the Antlers Rio Grande Lodge, a destination resort located outside of Creede and featuring charming cabins on the banks of the upper Rio Grande.  We will celebrate our arrival with a festive dinner at the popular Antlers Riverside Restaurant.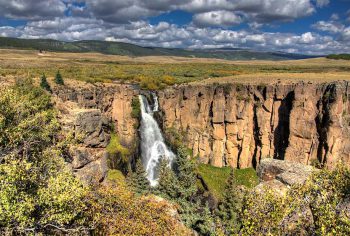 On our first full day in the Creede area, Dr. Kempter will give a morning presentation on the geology of the San Juan volcanic field.  We then begin our field explorations traveling west to Windy Point Overlook, providing views of the impressive Lake City caldera and the colorful (and still active!) Slumgullion landslide. We then visit North Clear Creek Falls, a scenic waterfall that pours over densely welded volcanic tuff from one of the nearby caldera sources.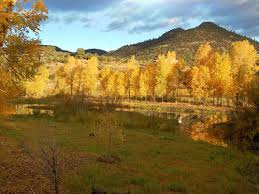 In the afternoon we will enjoy a half-day rafting trip on the Rio Grande traversing the Creede Caldera and through the Coller State Wildlife Area known for opportunities to view elk, deer and willows teeming with yellow warblers. There will be spectacular scenery as we float around Sunshine Mountain, the caldera's resurgent dome.  The evening closes with a leisurely dinner together at Antlers Riverside Restaurant.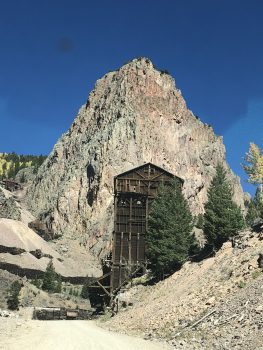 On Friday we tour the famed, scenic Bachelor Loop while learning about the geology of the historic Creede Mining District enjoying a picnic lunch among quaking aspens. Returning mid-afternoon,you will have a few hours to explore charming downtown Creede before our early dinner and evening performance of Always…Patsy Cline at the nationally recognized Creede Repertory Theatre. Featuring favorite hits like Crazy and I Fall to Pieces, this musical brings the story of one of America's most celebrated artists to life with down-home county humor and true emotion.
On Saturday we will depart Creede and travel east to South Fork, then southwest to Pagosa Springs.  En route we will make geologic stops to appreciate volcanic deposits from the La Garita caldera, including the famous Fish Canyon Tuff.  Crossing Wolf Creek pass, we then descend towards Pagosa Springs where we will enjoy a relaxing soak in the mineral waters of Pagosa Springs Resort and Spa, an outdoor multi-pool experience, followed by lunch at our favorite local bakery.  The final leg of our journey will take us through Chama, New Mexico, and down into the majestic Piedra Lumbre valley where Cerro Pedernal stands as a sentry on the edge of the Colorado Plateau.  Then, down into Abiquiu and across the Española Basin to Santa Fe, where our journey began.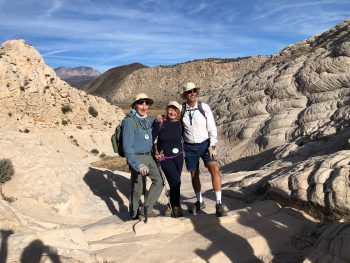 This 4-day, 3-night program includes: lodging at famed Antlers Rio Grande Lodge, full breakfast, picnic lunches, and gracious dinners, most meals at the popular Antlers Riverside Restaurant, all admissions and educational programming as well as honorarium for our exceptional Study Leader. tickets to the Creede Repertory Theatre and spa admissions. Easy hiking and gentle rafting.  Drive your car or carpool.
Covid vaccinations and boosters will be required of all participants.
Double Occupancy or Shared Cabin: $1900 pp. $2290 for a Single Unit.
Deposit to reserve: $500
Contact Southwest Seminars to Reserve your spot and Request a Registration Form
 Southwest Seminars, 219 Ojo de la Vaca, Santa Fe, New Mexico 87508
Phone: (505) 466-2775     E-Mail: Southwestseminar@aol.com        Website:  SouthwestSeminars.org
Southwest Seminars is a 501 (c)3 educational nonprofit organization.