HIKING BEARS EARS CULTURAL LANDSCAPE
WITH DR. JOHN WARE
OCTOBER 16-23, 2019
Join Southwest Seminars and anthropologist Dr. John Ware for an active tour to remote sites in the remarkable Bears Ears National Monument. A rare opportunity to walk with respect among ancestral sites, great houses, granaries, kivas, towers, painted walls, gathering places, shrines and rock art, untethered by paved pathways and chained fences to marvel about the people who created such beauty.
Established in 2016 by President Obama, Bears Ears National Monument—named for two prominent buttes skirting the northern edge of Cedar Mesa—encompassed 1.35 million acres of rugged mesa and canyon country in southeastern Utah. In 2017 the Trump administration reduced the monument by creating two much smaller noncontiguous areas totaling just over 200,000 acres (a decision currently being challenged by multiple lawsuits). Archaeologists believe that the original monument boundaries contained over 100,000 archaeological sites—the ancestral footprints of Pueblo, Paiute, Ute, and Navajo peoples. Much of the significance of these fragile cultural resources relates to the region's geographic isolation. Far from large population centers and with only limited road access, the archaeology of Bears Ears Monument, in comparison to other sites, is relatively undisturbed.
The breadth of Bears Ears history is impressive, from a well-documented 13,000 yr. old Clovis hunting encampment to stratified remains of Archaic hunter-gatherers who traversed Bears Ears between 10,000-4,000 years ago. Atop Cedar Mesa and in remote canyon rock shelters are the remains of Basketmaker II (400 BC to 400 AD) Ancestral Puebloans farmer-hunter-gatherers. Subsequent Basketmaker III (600-700 AD) and Pueblo I (700-900 AD) farmsteads are scattered throughout the mesa and canyon country. Great houses built in Pueblo II times (900-1100 AD) were accompanied by ritual 'roadways' and sacred shrines, linking them to Chaco Canyon one-hundred miles to the southeast. Depopulated by Ancestral Puebloans in the AD 1260s, along with most of the rest of the southern Colorado Plateau, the region was reoccupied in the late prehistoric and early historic periods by ancestors of Paiute and Navajo peoples.
The cultural landscape of the Bears Ears region figures prominently in the histories and oral traditions of many indigenous Southwestern peoples, and supporters are challenged to preserve & protect their heritage. Join us to learn about the cultural connections between modern Native Peoples and these sacred places now held in tribal songs and stories. Learn about the earliest pre-ceramic farmers of the northern Southwest, the distinctive red ware pottery manufactured in southeastern Utah and traded throughout the greater Southwest, the many historical connections between Bears Ears and Chaco Canyon's ritual traditions, and the depopulation and migration of Ancestral Puebloans in the second half of the thirteenth century. Recent studies of perishable artifacts from Bears Ears provide stunning examples of ancient arts and crafts that survived for millennia in the region's many dry rock shelters. For example, studies of yucca sandal weave patterns from Bears Ears suggest they may have been used to signal community affiliations & perhaps the identity of the wearer's tracks in the sand!
JOHN WARE is a distinguished Southwest archaeologist and social anthropologist. The author of A Pueblo Social History: Kinship, Sodality, and Community in the Northern Southwest (SAR Press, 2014), Ware was the founding director of Santa Fe's Museum of Indian Arts and Culture and served fourteen years as Executive Director of the Arizona's Amerind Foundation, where he sponsored nearly forty advanced seminars and edited over a dozen books on Southwest archaeology, anthropology, and ethnohistory. As a study leader, John has led many tours to Indian Country for Southwest Seminars, the Amerind Foundation, School for Advanced Research, Crow Canyon Archaeological Center, and the Museum of New Mexico's Office of Archaeological Studies.
DR. JOSEPH SUINA (Keres) is Professor Emeritus from the UNM College of Education and is a former Governor of Cochiti Pueblo. He devotes himself to farming, family and the Cochiti tribal council and issues. He has led numerous educational programs for Southwest Seminars, the Amerind Foundation, Colgate University, Crow Canyon Archaeological Center and many other educational institutions and oral history programs.
TRIP DESCRIPTION: The trip begins on Wednesday, October 16 at the Edge of the Cedars State Park Museum in Blanding, Utah, where a personal tour sets the stage for the week to come as we learn about ancient textiles, sandals, vessels and tools used for ritual ceremony and everyday life. We continue onto our hotel in Bluff, our home for the next week. We spend the next six days immersed in Cedar Mesa while hiking some of the best "off-the-beaten-path" backcountry spots while we learn about ancient sites and rock art left by the Ancestral Puebloans. We will spend 5 days hiking to some of the most popular scenic sites including Moon House, Citadel, Procession Panel, Monarch Cave, and Target Ruin, one of the oldest known cliff dwellings and whose rock art depicts special types of sandals and a winter solstice calendar. We will also visit House on Fire, Arch Canyon Overlook, and Cave Tower Ruins. Additional sites such as Wolfman Panel, Fallen Roof Ruin, Bluff Great House or Salvation Knoll as time and interest allow. A leisurely day gently rafting the San Juan River under golden cottonwoods from Bluff to Mexican Hat and hikes to visit River House Ruins and the famous Butler Wash petroglyph panel. You return to Santa Fe after breakfast on Wednesday.
DETAILS: Popular Desert Rose Inn and Cabins will be our home for 7 nights, a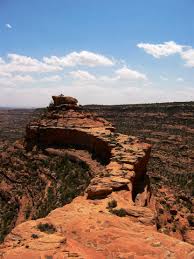 welcome retreat after active days hiking. Wild Rivers Expeditions will be our outfitters for the trip, trained and experienced guides who will be driving our 4×4 vans, rowing our rafts and providing a helping hand over a steep rock. Access to some Cedar Mesa sites is restricted. Southwest Seminars has secured the required special permission. Meals are included, most often hotel breakfasts, picnic lunches during hikes in a mix of casual or hip restaurants, a dinner in a private gallery and a sunset cook-out on Muley Point with its spectacular views of the Goosenecks of the San Juans and Monument Valley beyond.
Participants must be in good health and able to hike up to 5 miles a day over rugged terrain and un-established trails with some altitude gain or loss, be willing to do a bit of rock scrambling and not too afraid of heights. Your Cedar Mesa sites are located off dirt roads and usually include a bit of bouncing around in 4×4 vans driven by our outfitters to access the trailhead. While Cedar Mesa area of Bears Ears is popular with rock climbers and long distance backpackers, our locations are rated easy to moderate. A leisurely pace allows our study leaders to tell their story while viewing some of the most dramatic sites in Bears Ears.
Includes: 7 days activities and 7 nights lodging at Desert Rose Inn and Cabins. Land and river expedition guides, 4×4 vans with drivers for transfer to the sites, 3 meals a day, as yummy as we can find, Study Leader honoraria, river and land guide gratuities, admissions, special permits and fee for our services.
Double Occupancy: $3200 per person, Single Occupancy: $3700
Deposit $500. Balance due August 1, 2019
Contact Southwest Seminars to reserve your space and request a registration packet.
Images from Southwest Seminars and the Web.