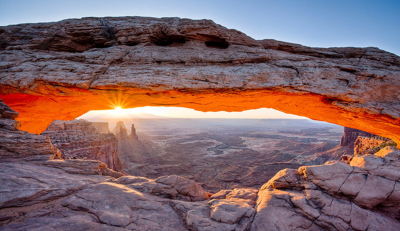 RED ROCKS MAGIC: GEOLOGY OF CANYONLANDS AND ARCHES NATIONAL PARKS
WITH DR. KIRT KEMPTER
 NOVEMBER 3-8, 2020 – CANCELLED DUE TO COVID 19
Journey into the magical Canyonlands of Utah and the spectacular Red Rock Country of the Colorado Plateau for an unforgettable six-day, five-night experience with exceptional Dr. Kirt Kempter, vulcanologist and geologist, Southwest Seminars' cultural historian Alan Osborne and Dr. Tamsin McCormick, geologist and executive director of plateau Restoration.  Vast panoramas, dizzyingly deep canyons, dramatically steep cliffs, broad mesas and towering spires, sliced into districts by the Colorado and Green rivers, this is a land of extremes. Our journey on this portion of the Colorado Plateau will focus on sedimentary strata deposited during the time of dinosaurs, when the four corners region was barely above sea level.  Today, these strata have been uplifted as much as 10,000 feet, forming broad mesas profoundly dissected by river-carved canyons.  From magnificent arches to intricate hoodoos, erosion has worked its masterpiece in the region, revealing the stratums beautiful colors, texture and geology.   We'll meet in Moab on Tuesday afternoon, arriving at our lodge overlooking the beautiful Colorado River in time for a welcome orientation and lecture followed by a relaxing welcome dinner.
On Wednesday we show you the Canyonlands National Park that many miss. We will travel the famous White Rime 4X4 Trail into the depths of the park, stopping occasionally for a number of excellent hikes into caves and caverns that lie just beneath the White Rim. These short hikes reveal hidden passages, secret canyons and a sense of discovery and magic. We will visit park treasures such as the Gooseneck, Lathrop Canyon, Musselman Arch, Potash petroglyphs, Fossil Point and the infamous Shafer Trail. Combined with views of the mighty Colorado River corridor, this is what Canyonlands is all about.
We will learn about the White Rim sandstone layer, the expansive rock terrace that covers the park from the Colorado River to the Green River, a dominant feature that contributes to its grand vistas and magnificent beauty. As we travel the historic Schafer Trail, an old cattle and mining road famous for its awe-inspiring switchbacks as we learn the legend of cowboys, miners and renegades of this red rock country Our resident geology Dr. Kirt and accompanied by Dr. Tamsin will point out rock ridges, pinnacles, balanced rocks as we learn the geologic story of the Canyon Plateau. With luck we will see the big horn sheep that call this canyon country home.
On Thursday we will drive and walk to various scenic overlooks within the Canyonlands National Park in the Islands in the Sky District famous for its majestic scenic overlooks and great photo opportunities. One highlight will be the Mesa Arch Trail, an easy ½-mile loop nature walk among pinion and juniper trees, ending at an arc of precariously perched Navajo sandstone that frames the nearby mountains in its spectacular and often photographed view, one of the most beautiful in Canyonlands. Dead Horse Point, Upheaval Dome and Grand View Point, which overlooks some 10,000 square miles of rugged wilderness, are among many scenic overlooks from which we will choose our route for the day.
We devote Friday to Arches National Park, including a view of Delicate Arch, the iconic Utah image featured on all its license plates. As time allows, we will visit spectacular viewpoints and also offer some scenic walks to arches within the park, North and South Windows and Double Arch and the Balance Rock Loop.  Dine under "real Golden Arches" at our favorite Southwest Seminars' picnic spot in this unforgettable location.
The last full day begins with an optional hike to the off-the–beaten path Corona Arch…a great 3-mile round trip hike to one of the largest and most spectacular arches near Moab. Also called Little Rainbow Bridge the trail passes Pinto Arch and Bowtie Arch along the way. Composed of Navajo sandstone the arch measures 140 feet across by 105 feet high, immense and fragile at the same time. Saturday afternoon is at leisure…free time to enjoy the beautiful location of Red Cliffs Lodge, our home for these 5 nights.
Featuring an on-site winery, Red Cliffs Lodge is located on the banks of the Colorado River We have reserved private 2-bedroom cabins that face the river and feature living spaces with fireplaces. Whether you use your free time to sketch the mighty monoliths that rise above the canyon floor or watch the river flow as you appreciate Edward Abbey's Desert Solitaire from your private deck, it will be a perfect cap to an incredible trip before the farewell dinner. This 6-day, 5-night program will spend all five nights at Red Cliffs Lodge. All meals are included, full breakfast, picnic lunches and the nicest restaurants for dinners, as are admissions, educational programming and honorarium for the Study Leaders. Most of the hikes are moderate or easy.
$3000 PP DOUBLE OCCUPANCY,             $500 DEPOSIT TO RESERVE
 CONTACT SOUTHWEST SEMINARS TO REGISTER