MARCH
St. Joseph's Feast day Dances at Laguna pueblo with Alan Osborne
Friday, March 19, 2010 (8-6)


Laguna Pueblo is seen by literally thousands of travelers who pass along Interstate 25 heading west of Albuquerque, but few are aware of its history, legacy, or traditions. Visit one of the traditional western Keres villages of the Lagunas, Paraje, with Southwest cultural historian Alan Osborne where we will attend the annual Feast Day honoring Saint Joseph, patron saint of the Pueblo. You will have the opportunity to be part of this important ceremonial day and by your silent observation both give and receive the blessings of the Lagunas. Learn the history of the Keres world and its influence from both the ancestral Puebloan and European traditions. We'll also visit the beautiful Laguna Mission church, operated by the Franciscan order, built in 1699 and containing beautiful native paintings, colonial reredo (altar screen), and traditional adobe architecture. A day not to miss, nor to forget! Includes transportation, very nice lunch, study leader. $85 pp
APRIL

Bisti Badlands and De-Na-Zin National Wilderness Area with Dr. Kirt Kempter
Saturday and Sunday, April 24-25, 2010
Located in Northwestern New Mexico in the San Juan River Basin, the Bisti/De-Na-Zin Wilderness badlands are 'one of the most austere and other-planetary places on earth…walking among its weirdly weathered rocks is to know what it would feel like to stroll through a garden on Mars'. For one noted photographer of the Bisti Badlands, Eduardo Fuss,' it was the site of a wilderness epiphany that compelled him to return again and again, keeping a visual photographic diary of the haunting and elegiac moments that revealed themselves.' And yet, as a landscape 'set in stone…the Bisti is very much alive.' Historically mined for its coal deposits, the Bisti was set-aside as a federally protected wilderness area in 1985. (From Wonderland: A Photographer's Journey Into the Bisti, Eduardo Fuss)
In the Navajo language, Bisti refers to shale hills and De-Na-Zin means cranes. Containing some of the most spectacular and b bizarre geologic formations in New Mexico, including gravity-defying hoodoos and multi-hued shales, the stacked layers, or formations within this 45,000 acre wilderness area show a continuous record of ancient environments, formed between 160 million and 40 million years ago, with episodes of uplift and erosion, inland seas, shorelines, estuaries, large forested river deltas, meandering steams, bogs, and numerous fresh-water lakes leaving evidence of early mammal fossils, dinosaurs, petrified wood caches, and periodic volcanic ash showers. The area is filled with multi-colored ash created by iron, manganese and crystal-forming silicates, and has been described as a paleontological treasure trove!
We will take a scenic drive from Santa Fe to the De-Na-Zin area. There, after a gourmet picnic lunch, we will offer a 2.5 mile hike/walk in the afternoon led by Dr. Kirt, offering plenty of time for on-site educational lectures, photographic moments, and awe-inspiring sacred landscape. At the day's end, we will drive to Aztec or Farmington (TBD) for our overnight. We will dine together after arrival and check-in, followed by a good night's rest.
The next morning, we drive to Bisti Badlands area, where we will marvel at the hauntingly beautiful scenery and enjoy a (requiring good walkers) 4-mile round-trip hike on relatively flat ground…a gourmet picnic lunch…followed by more spectacular scenery and outdoor geology classes as Dr. Kirt explains what the earth science story tell us about the landscape. Drive back to Santa Fe that afternoon for evening arrival with a stop at our favorite Cuba, NM dinner spot, Bruno's for some home-style cooking before our Santa Fe evening return. Don't forget your camera! Includes lodging, 5 meals, transportation, honorarium for Study leaders. $350 pp double occupancy, $395 pp for Single occupancy.
MAY
Geological tour of the Galisteo Basin with Dr. Kirt Kempter
Saturday, May 15, 2010, 9-530
Nestled between the Sangre de Cristo Mountains and the Sandia Mountains, While much attention has been given to the important archaeology of the Galisteo Basin, much less has of the public interest has been devoted to the geology of this rich resource area, until oil and gas exploration was proposed recently before our Governor imposed an important moratorium on extraction industries in this beautiful area just south and east of Santa Fe located along the Rio Galisteo. Its subtle natural beauty, with wooded hillsides, dramatic volcanic dikes, and wide, open grasslands has drawn many noted contemporary artists to settle there and has attracted attention from those seeking easily accessible but less traveled areas containing important sites of natural history, including those who specialize in flora and fauna, as well as geology and vulcanology. Our former Fulbright scholar and favorite volcano scientist, Dr. Kirt Kempter, will use this outdoor classroom as an educational opportunity to explain and discuss the earth history of this beautiful basin in our own backyard. We will travel through the historic ghost town of Waldo and along the railroad tracks laid through the area in the late 19th century to the picturesque village of Cerrillos, then travel across the Galisteo Basin heading east on the backloads through this scenic area. A short but interesting hike (one mile round-trip) will illustrate the fascinating earth history of the Cerrillos Hills, Ortiz Mountains and the beginning of rifts in the Santa Fe area. Our afternoon will conclude with a relaxed social Happy Hour, including a glass of wine and appetizers at Connie's Casa, the owner-built, passive solar traditional home to Southwest Seminars Director, Connie Eichstaedt. Join us for this special day! Includes Transportation, scholar honorarium, lunch, followed by wine with apps at Connie's Casa (and hoped-for lilacs) before return to Hotel Santa Fe, our pick-up and departure point. $120 pp
El Malpais National Monument: Volcanoes, Mythology and Archaeology and El Morro National Monument: Inscriptions in Time With Dr. Kirt Kempter, Dr. Jim Kenderick, And Alan Osborne
Saturday and -Sunday, May 29-30, 2010
Our rewarding and memorable trip features vulcanologist, Dr. Kirt Kempter, and special guest archaeologist, Dr. Jim Kendrick, of El Malpais and El Morro National Monuments. From them, you will learn about the magnificent natural and cultural history of this scenic area, called 'the evil country', or the badlands, by chroniclers on the Coronado Expedition of 1540, as a result of their extreme difficulty in crossing through lava flows by the expeditionaries and their horses along the legendary Zuni-Acoma Trail.
El Malpais National Monument offers many learning opportunities for us, including a presentation by Dr. Kendrick on the many archaeological sites found El Malpais and recent discoveries, as well as current preservation projects in which Dr. Kendrick and the National Monument are involved. Dr. Kirt will take us on an educational walk/hike following trails which lead through an unforgettable geologic landscape. In El Malpais are found ancient jagged lava flows, volcanic cinder cones and rims, pressure ridges, lava tubes, ice caves, and other landscape features, as well as prehistoric ruins and cairns, rock structures, and homesteads, plus important cultural sites where ancient pottery and other material artifacts have been discovered.
Existing beneath towering Mt. Taylor, an 11,301-foot volcano, which figures prominently into native cosmology, life here has been longstanding, adaptive, and enriched by the landscape. Many myths and legends abound about this remarkable area, including oral tradition never written down. The mythology of El Malpais will be discussed as well as the many different native cultures in the area, including Acoma, Zuni, Dine (Navajo), and others, which have made their home in the region for centuries and in some cases, millennia. This field study tour will offer you an exceptional opportunity to weave together Dr. Kempter's knowledge of the earth sciences with Dr. Kendrick's archaeological research of the El Malpais and El Morro region.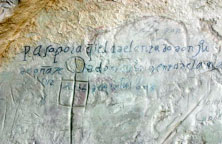 We will drive over the continental divide through a lovely, ponderosa forest setting amid volcanic flows, cinder cones, and scenic sandstone bluffs landscape to El Morro National Monument. This prominent high rocky promontory sheltered a large fresh-water pool, which attracted wildlife, as well as ancestral Pueblo, Spanish and Anglo-American travelers seeking water at the base of the bluff. We will a chance to see some of the most exciting and interesting ancient and historic petroglyphs (more than 2,000) in North America, including the Onate inscription of April 1605, (15 years before Plymouth colony in Massachusetts) most of which are accessible by a scenic paved walking trail. For an optional energetic uphill hike, those interested may visit the ancestral Zuni village of Atsinnaon top of El Morro. All will have access to the modern Visitor Center, featuring rangers, interpretive exhibits, and books and literature. There you will learn that the U.S. Camel Corps even visited El Morro on a Texas to California expedition in 1857. Includes transportation, 4 meals, overnight accommodations, entrance fees and Study Leaders' honoraria.
$360 pp double occupancy, $ 410 Single occupancy:
JUNE
North Rim of the Valles Caldera With Dr. Kempter
Saturday, June 12, 2010
Experience the magnificent vistas of the northern Jemez Mts. with vulcanologist Dr. Kirt Kempter. Departing Santa Fe, we will travel through Española, turn west over the Rio Grande, and on the north side of town turn west again onto a dirt road which we will travel for several miles on a scenic forest road, where we wind our way up through the Pajarito Plateau and into the scenic Jemez Mountains. As we ascend the backside of majestic and Chicoma Peak, a sacred mountain located in the Tewa world, there will be spectacular views, including down into the Rio Grande Rift, Pajarito Plateau, and other geologicfeatures seen from the northern Jemez Mountains. This scenic dirt road also cuts through the core of an old volcano, active more than 10 million years ago. On our last Southwet Seminars field trip to the North Rim we had a very special porcupine sighting! Our destination will be a high altitude alpine meadow overlooking the spectacular north rim of the Valles Caldera where we will be served a gourmet fajita picnic lunch with a breathtaking view down into the caldera valley below. A relaxed and informative lecture at this stop will provide a geologic history of the caldera since the massive eruption occurred 1.2 million years ago, a dynamic story including multiple lakes and volcanic eruptions within the caldera since its collapse. Other geologic highlights include overviews of Cerro Pedernal, the Rio Grande Rift, and the Chama River valley. No serious hiking, but some short walking involved. Includes special fajita lunch by chef Kirt and headwaiter Alan, transportation, Study Leader honoraria. $95 pp
JULY
Georgia O'Keefe's Beloved White Place: A Geo-Walk Through the Rocks at Plaza blanca with Dr. Kirt Kempter
Saturday, July 24, 2010
Located in the Sierra Negra Badlands, Our special day trip to Plaza Blanca (White Place) with our wonderful and favorite vulcanologist and Fulbright Scholar, Dr. Kirt Kempter, who will feature his 'wise and well-considered' thoughts and research on the geology between Santa Fe and Abiquiu, including a few roadside stops to look at important landscape features, rocks, scenic overlooks, and geologic field maps. Along the way, we will Santa Rosa de Lima, the historic site overlooking the Chama River and original site of the Abiquiu Valley settlement. (We could also stop and take (short but relatively steep unpaved rocky footpath) hike up to Poseouingue to see a 14th century Tewa Pueblo village.) At Plaza Blanca, we will take a one-mile hike into this spectacular region, the area Georgia O'Keefe called her legendary "White Place", where the canyons are spectacular white sandstone and tuff formations, which have eroded into strange shapes. The path is rocky in places, but relatively easy, with less than 150 feet gain/loss in elevation over the length of the hike. Please note: Weather conditions may leave path slippery when wet, bring sturdy comfortable hiking shoes and layered clothing for variable weather. Includes transportation, casual picnic lunch and Study Leader honoraria. $95 pp.
SEPTEMBER
Crownpoint Rug Auction and Dine SACRED LANDSCAPE WITH DR. PAUL ZOLBROD & SUNNY DOOLEY
Friday September 10- Saturday September 11, 2010
Join Dr. Paul Zolbrod, Research Associate, Laboratory of Anthropology, Santa Fe, Professor of Literature, Dine College, Crownpoint, Professor Emeritus, Allegheny College, Pennsylvania, and Author, Dine Behane. Dr. Zolbrod will escort us to an important ancient Chacoan outlier, Kin Yaía (Tall House), where he will help us understand the importance of Chaco Canyon culture. We will visit the hogan-shaped St. Paul Catholic Church in Crownpoint, where Navajo spirituality coexists with Roman Catholic Christianity. The church interior features significant examples of Navajo religious symbolism. Dr. Zolbrod will also introduce us to two Catholic nuns who were part of the effort to create the Crownpoint Rug Auction, now a major cultural tradition and artistic event which you will have the privilege of attending. You will have an opportunity to learn from the nuns about their work with Navajo people. Their lives represent an intersection of cultures that they have chosen for their life's work. You will also visit Dine College at Crownpoint where Dr. Zolbrod teaches literature to Dine students. In these humble surroundings, you will come to respect and understand the Dine and their important connections between people, language, and land. His discussions and commentary featuring his perspectives on Dine culture will be valuable tools for our own education. Participants are requested by Dr. Zolbrod to bring books for donation to Dine College library.
You will also have the extraordinary blessing of spending a day with Sunny Dooley, a traditional Dine storyteller from the Chil Chi Tah area south of Gallup, who will guide us through her rural homeland. Sunny is a scholar for the New Mexico Endowment for the Humanities and travels widely sharing her culture through stories. We visit her local Chapter House and to the Chil Chi Tah School, where you will meet Navajo teachers and students. You will have an opportunity to interact and learn about Dine culture in education from the teachers and students and tour the school. Visit a small rural family-owned Trading Post, rarely seen by outsiders, which helps bridge cultures and maintain community.
Make a memorable visit to the Crownpoint Navajo Rug auction, a significant monthly cultural event held in the Crownpoint Elementary School auditorium, where you will see many traditional weavers, as well as appreciate the opportunity to view a stunning collection of 200 or more weavings of all sizes, regional styles, and prices. Included is transportation, lodging at legendary El Rancho in Gallup on Route 66, most meals, special presenters and Study Leaders honoraria, and donation to Chil Chi Tah Elementary School, and celebration dinner. Includes transportation, Lodging, 5 Meals, Honorarium for Study Leaders.
$385 Double Occupancy, $435 Single
OCTOBER
Sacred Places with Alan Osborne
Saturday ,October 2, 2010
Join us for an uplifting and intriguing day with cultural historian Alan Osborne. We will take you to seldom visited sites in northern New Mexico That are spiritually sacred and significant to different traditions which have made a mark on New Mexico's cultural and religious landscape. Our purpose will be to enhance our appreciation and understanding of these various sacred places and the spiritual and religious traditions which hold them in esteem. Our Study Leader is a specialist on sacred spaces and places, and this will be a unique opportunity to share in his wisdom and insights. Special visits and tours of Dar al Islam Mosque in Abiquiu, Christ in the Desert Monastery, the Sikh Dharma and community in Somlbrillo near Espanola, the Buddhist stupa in Santa Fe, plus special presentations by representatives at these very special locations. We'll enjoy a special lunch together. Our day will be filled with opportunities for reflection and awareness of spiritually different paths for restoring balance and harmony in our world set amidst stunning landscapes and meditative locations. $95 pp