JANUARY
SAN ILDEFONSO FEAST DAY BUFFALO-DEER DANCES WITH ALAN OSBORNE & DORA TSE PE
Saturday, January 23, 2016 Sold Out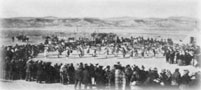 Join us for a private special visit to San Ildefonso Pueblo Feast Day and Deer Dance; Powoge Owingeh is one of the best-known NM Pueblos. Famous black-on-black pottery, was revived here in the1920s. San Ildefonso people have lived in the present site for seven centuries, and have a strong sense of identity. Ancient ceremonies, rituals, and dances continue. The winter Buffalo and Deer Dance is particularly important and much anticipated. We will spend treasured time with our dear friend, Dora Tse Pe, legendary potter and San Ildefonso resident and her family who have invited us to share a feast meal with them on this important ceremonial occasion at Dora's home. Our early morning departure is intended to allow the viewing of the animals coming into the village. Includes transportation and feast meal. $125 pp.
MARCH
MOUNDS AND MIGRANTS: A CLASH OF RELIGIONS IN THE LATE HOHOKAM WORLD WITH DR. JEFFREY CLARK, DR. WILLIAM DOELLE AND LYLE BALENQUAH (HOPI)
MARCH 19-25, 2016 Sold Out
Join Dr. Bill Doelle, Dr. Jeffery Clark and other researchers at the forefront of recent investigations of into ancestral SW migrations for an Arizona study tour exploring the effects of the "clash" of Hohokam and Ancestral Pueblo ideologies. Within adobe-cobble mound ruins of So. Az. lies evidence for the struggle between two native religions with very different origins and organizations. Platform mounds are an integral part of the first, developed in the densely populated Phoenix Basin, the center of the Hohokam archaeological culture. The other was at least partially expressed through symbols on Salado polychrome bowls and jars, developed within ancestral Pueblo immigrant communities, rapidly adopted by many locals. Visit sites in which both religions developed, including large platform mound villages of the Phoenix area and Ancestral Puebloan enclaves in SE Az. Explore contested areas where the two religions overlapped in the scenic San Pedro Valley. Native voices will give tour participants their perspectives on ancient Kayenta migrations into the region . Tour begins and ends in Phoenix. $2,395 Double, $2795 Single
APRIL
GEOLOGY OF ABIQUIU AND THE CHAMA RIVER VALLEY WITH DR. KIRT KEMPTER
Wednesday, April 20, 2016 Sold out
Join geologist Kirt Kempter for a geologic hike near his Abiquiu casita just east of beautiful Plaza Blanca. We will meet at Kirt's Casita and get a geologic overview of the stunning landscape north of the Rio Chama between Sierra Negra and Plaza Blanca. From his casita we will embark on a 2-mile loop hike, exploring the geology of adjacent canyons. During the hike we will also see several Ancestral Puebloan petroglyphs and Tewa rock grid gardens related to the nearby Poshu-ouinge Pueblo. After the hike enjoy Kirt's Famous Fajitas while enjoying spectacular views from his front porch. Following lunch we drive to a scenic overlook of the Rio Chama at the boundary of the Colorado Plateau and the Rio Grande Rift. Tuition includes Study Leader honorarium and Fajita lunch. $125 pp
MAY
Full Moon Over Chimney Rock with David Grant Noble
Saturday, May 21 and Sunday, May 22-one more spot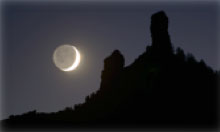 Chimney Rock National Monument is a place of mystery, sacredness, a celestial observatory, and seasonal calendar for Ancestral Puebloans over 1,000 years ago. Sitting high on a mesa on the southern edge of the San Juan Mountains it is a place of unparalleled natural beauty listed on the National Register of Historic Places. More than 200 ancient homes and ceremonial buildings were built here, including a Great Kiva, pit houses, multi-family dwellings, and a Great House Pueblo, near towering twin pinnacles now known as Chimney Rock and Companion Rock.
Chimney Rock's position allows line of site to Huerfano Mountain in northern New Mexico where remnants of fireboxes and shrines have been discovered. Messages could have been passed from Chimney Rock to downtown Chaco in minutes if the 'repeater' station was carefully managed and coordinated. The position of Pueblo Alto just north of Pueblo Bonito, along with most other Chaco Canyon great houses, now leads scholars to believe their placement was in large measure related to the importance of field of view.
Our arrival at the Springs Resort and Spa in Pagosa Springs allows time to soak in the deepest hot springs in the world. After time on your own to explore and dinner together we will participate in the Chimney Rock Full Moon Program which includes a lighted trail to the mesa-top and a talk on the relationship between Pueblo ancestors and the moon, sun, stars, and aspects of archaeoastronomy. Native flute music accompanies the dramatic rise of the full moon over the mountains and a sunset view high above the valley floor.
On Sunday take an early soak in the springs before we return to Chimney Rock for an on-site lecture by David on the history of archaeology at Chimney Rock and its interpretation by various scholars over the last century. Afterward we'll hike the Kiva and Pueblo Trail which access a Great Kiva, pit houses as well as un-excavated areas. We'll also see a multi-family dwelling and a Chacoan Great House Pueblo and fantastic mesa-top views.
Study Leader David Grant Noble is an accomplished editor, archaeological writer and fine art photographer. He has authored and edited many books on SW Archaeology, such as Ancient Ruins of the Southwest, In Search of Chaco: New Approaches to an Archaeological Enigma, The Mesa Verde World and In the Places of the Spirits. Price includes transportation, all meals, lodging, admission to mineral springs, Chimney Rock National Historic Park and guided Full Moon and private guided trail tour. $595 pp Double occupancy, $695 pp single occupancy.
JUNE
AN ANCESTRAL TEWA VILLAGE: PALISADE RUIN AT ABIQUIU LAKE WITH DR. SAM DUWE
Friday, June 10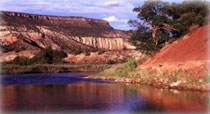 A rare visit to the site of Palisade Ruin, an ancestral Tewa village dating to the early 14th century near Abiquiu. University of Oklahoma Archaeological Field School is actively working at the site to understand when it was occupied, the importance of its location at the Northwest periphery of the Tewa world, and its relationship with contemporaneous sites. We get to interact with students and staff experiencing field archaeology in action to study a critical period in Pueblo history, 1300-1350 AD.
Dr. Sam Duwe, Assistant Professor Department of Anthropology, University of Oklahoma, is former Assistant professor of Anthropology and Applied Archaeology at Eastern New Mexico University and earned his doctorate at University of Arizona, and wrote his widely referenced dissertation: The Historic Tewa World: Migration, Coalescence, and Culture Change in the Rio Chama Watershed after much research and investigation in the Chama River Valley and its tributaries. Includes picnic lunch, Study Leader honoraria, and donation to OU Archaeology Field School. $125pp.
JULY
NATIVE HISTORY AND RAFTING THE RIO CHAMA WITH DR. TIMOTHY MAXWELL
Friday, Saturday & Sunday: July 8, 9 & 10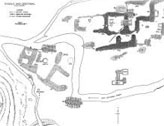 Join Southwest Seminars for 3-days and 2-nights rafting the Rio Chama led by Dr. Tim Maxwell as we learn about the native history of the river and its valleys that served as a natural corridor from north to south for millennia.
Learn about the history of the Early Paleo and Folsom people traveling the Chama River Valley thousands of years ago. High quality chert for stone tools was found on the prominent Pedernal Peak . Several life zones with diverse animal and plant species were an easy walk from the river. High promontories offered places of protection at times when poor climatic conditions led to warfare.
Nomadic residents living 3,000 years heavily used the region as evidenced by obsidian spear points and ancient living sites. Despite abundant resources, millennia passed as larger villages were established closer to the Four Corners. After the depopulation of Chaco Canyon and Mesa Verde new people entered the area and created communities along the river and its tributaries. By the mid 1300's they built some of the largest prehistoric pueblos in the ancient Southwest using a unique farming method that still covers the valley landscapes. Practiced for over 200 years, rock and gravel mulch grid gardens enabled Ancestral Puebloan farmers to survive the effects of the Little Ice Age but the sites were abandoned in the 1400s. Spanish colonists found the region difficult to settle. Native hostilities and the raging Chama River caused floods that shifted the river channels destroying crops, a problem faced by Ancestral Puebloan farmers. Dams built in the early 1900's finally tamed the Chama River.
Dr. Maxwell will lead and share knowledge of the native peoples, history, and the agricultural field systems of the Rio Chama. He is Director Emeritus, New Mexico Office of Archaeological Studies. Tim conducted extensive mapping of Chama River cultural sites, and has also done studies comparing the agricultural field systems of the Rio Chama with those at Zuni Pueblo. He is also a noted archaeologist of Paquime in Chihuahua.
We follow the Rio Chama for a 33-mile mellow whitewater rafting adventure exploring scenic hidden canyons: Rio Nutrias, Aragon and Dark Canyons, Rio Cebolla-Navajo Peak, Huckbay, Chavez Canyon, and finally down the Big Eddy near Christ in the Desert Monastery. The trip begins near Tierra Amarillo and after floating through stunningly colorful sandstone and limestone walls finishes near the village of Abiquiu. Overnight sites feature sandy beaches and grassy campsites sheltered by towering old-growth Ponderosa pine. Our river provides views of spectacular red, yellow, and purple multi-hued cliffs captured by artists such as Georgia O'Keeffe and Ansel Adams. Ample time for exploring, hiking side canyons and capturing scenic vistas. Rio Chama is an easily navigated river, more floating than rapids. Our flotilla will be a mix: paddle boats for those who wish to participate, oar boats for those who wish to simply ride, or inflatable kayaks for the more adventurous. Experienced river guides keep us safe and double as grilling chefs with gourmet flair. Includes: Full outfitter services for 3-days and 2-nights on the river including experienced river guides, all meals, sleeping bags, tents, pads and chairs for the evening social hour. Transfer to and from the river, departing from Bode's in Abiquiu. Study Leader honoraria, river guide gratuities, and fees. Limited space, reserve early. No charge for the stars. $895 pp.
AUGUST
SAN CRISTOBAL PUEBLO: CROSSROADS OF CULTURES WITH DR. ERIC BLINMAN AND DR. JOHN A. WARE
SATURDAY AUGUST 27
The 300 years between AD 1400 and 1700 are remarkable in the history of New Mexico peoples. Pueblo San Cristobal in the Galisteo Basin is a touchstone for this period of history, encompassing both Puebloan and Spanish colonial elements, as well as playing a major role in the history of archaeology as a discipline through early 20th Century excavations by Nels Nelson of the American Museum of Natural History.
Join Dr. Eric Blinman, Archaeologist and Director, New Mexico Office of Archaeological Studies and Dr. John A. Ware, former Executive Director, Amerind Foundation and Founding Director, New Mexico Museum of Indian Arts and Culture, and Author, Pueblo Social History for a study tour to San Cristobal Pueblo, a site rarely open to the public.
The pueblo itself consists of more than 1,600 rooms arranged around at least 12 plazas arranged around San Cristobal Creek, one of the most reliable water sources in the basin. A mission and convento were built in the seventeenth century, and Tano warriors from the villlage played a role in the Pueblo Revolt. By the time of the Spanish Reconquest in 1692, the village was abandoned and the region's role shifted from farming to ranching. Throughout, the economic rhythm of the site and the region reflects impacts of large scale climate change. Thousands of rock art images were created adjacent to the village, reflecting the intensity and richness of Puebloan ceremonial life, but also including images from the Archaic through ranching periods.
Hiking over rugged and irregular ground, the tour has moderate and also strenuous elements, some the equivalent of climbing six stories of stairs. Includes a nice lunch, study leader honoraria and a $25 pp donation to support the work of the Office of Archaeology. $125
SEPTEMBER
Riding the Rails: Harvey, Homol'ovi and Hopi
Wednesday, September 7—Sunday, September 11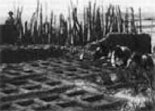 Experience the excitement felt by a 19th c. train traveller as we head into Indian Country by rail instead of trail. Relive the birth of cultural tourism in the Southwest with 3-nights lodging at La Posada, renowned Arizona trackside Harvey House. We follow the route of the legendary Santa Fe Railroad along with the sights and sounds moving past our window as we clickety-clack along the tracks. Journey by coach from Winslow with Dr. Charles Adams for tours of the Ancestral Hopi site of Homol'ovi and the petroglyphs of Chevelon Canyon. We spend 1-night at Hopi Cultural Center on Second Mesa as we explore Dawa Tribal Park with a Hopi guide, visits to select Hopi villages and important Hopi artists to see and learn how they express their culture through traditional arts and crafts. Learn historic advantages and disadvantages of RR and Fred Harvey Company employment of native people as railroad labor and even as Harvey Girls.
Our trip begins in Lamy where we board the train in the late afternoon. After enjoying dinner on the train as we pass stunning red rock scenery of the Colorado Plateau, we arrive at La Posada in Winslow, Az. in the early evening. The following day will be filled with a mix of everything Harvey and Hopi. We will explore the nooks and crannies of La Posada learning about the impact of Fred Harvey Company era and the loving restoration of the hotel back to its glory days. Journey to Homol'ovi State Park, an important Ancestral Hopi site, accompanied by Dr. Adams, Curator of Archaeology at Arizona State Museum. As a scholar of Hopi culture and history, he oversees the Homol'ovi Research Program and has worked with and lived among the Hopi. He will also take us to visit an important cultural site, Chevelon Canyon at Rock Art Ranch, known for its several thousand petroglyphs. Stimulating lecture by Dr. Kathy Howard, author of Over the Edge: Fred Harvey at the Grand Canyon and in the Great Southwest. Dinner in the famous Turquoise room at La Posada where we enjoy fine dining Harvey style.
Our next two days in Hopi include visiting Dawa Tribal Petroglyph Park with an experienced Hopi guide who can discuss the importance of maintaining ancestral Hopi traditions, customs, and beliefs while managing rapid cultural change. Visit select Hopi villages. Understand and appreciate traditional and contemporary Hopi arts and crafts, such as overlay silver jewelry, katsina carving, basket-making as we visit the homes and studios of some of our favorite Hopi artists. Share traditional feast meal at a private Hopi home. Learn about the importance of corn agriculture to their culture adapted over many centuries to this high dry climate. We visit Hopi-owned Tsakurshovi Trading Post renowned for their katsinas and jewelry and also as a place where Hopis themselves buy necessary items for ritual ceremonies. We return from Hopi to La Posada at the end of our fourth day for a farewell dinner in the wonderful Turquoise Room at La Posada. Early Sunday morning we board the train for a return rail trip to our starting point at Lamy. Includes rail and coach transportation, 3-nights at La Posada, Winslow, Az., 1-night at Hopi Cultural Center, Second Mesa, Az.. All meals, tours and visits to Hopi artists, and Study Leader honoraria.
$1750 Double or $2025 Single
PATTERNS OF THE PAST: K'UUYEMUGEH AND TESUQUE PUEBLO AGRICLULTURAL FIELDS
WITH DR. RICHARD I. FORD, LOUIE AND SERENA HENA (TESUQUE)
SATURDAY, SEPTEMBER 24
Join Louie Hena, Tesuque Pueblo farmer and Dr. Richard I. Ford, who lead a field study tour to learn about prehistoric agriculture and contemporary permaculture. In the morning we visit the usually closed Ancestral Pueblo of K'uuyemugeh to examine its architecture and sacred areas. Learn about ancient field systems and water control methods that were used until the Pueblo Revolt when the village was abandoned.
Enjoy a Feast Meal in Tesuque Pueblo prepared by Serena Hena, a renowned Pueblo cook and learn about Native edible plants, growth, harvest, and food preparation from Louie and Serena. Visit the Tesuque permaculture gardens and fields to learn about these techniques and plants and the philosophy and ancient methods of permaculture and how they can be adapted to your own home. In the arid Southwest these important water conservation procedures are important to utilize in today's changing global climate and proven techniques for gardening.
Dr. Ford is Professor Emeritus of Anthropology and Botany, University of Michigan (Ret.), and Research Associate, Laboratory of Anthropology, Museum of New Mexico and a recognized collaborator with Northern New Mexico native peoples on uses and management of native plants. Louie Hena (Tesuque/Zuni) is a respected Pueblo tribal elder and member, Board of Directors & Advisors, New Energy Economy and serves as a Permaculture Design Consultant.. $125 PP.
OCTOBER
GEOLOGY OF OJO CALIENTE WITH DR. KIRT KEMPTER
FRIDAY, OCTOBER 7 – SUNDAY, OCTOBER 9 2016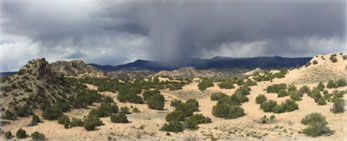 Vulcanologist Kirt leads us on an exciting in-depth field seminar on the geology of the Ojo Caliente area, including 2-nights lodging at tranquil Cliff River Springs. Through a combination of hikes and presentations, he interprets the story told by many rock units in the area, including the ancient metamorphic rocks of the Ortega and Vadito groups, over 1.6 billion years old. Observe a variety of sedimentary rocks that relate to the formation of the Rio Grande Rift over the past 30 million years. Daily hikes, easy to moderate, along the dramatic Taos Gorge, another to the mica mine above Ojo Caliente, and others to geologic sites in El Rito and Wiggle Rock Canyon. Explore spectacular travertine deposits adjacent to the Vallecitos River representing geologically young hot spring deposits. Drive through the villages of Tres Piedras, Las Tablas and Petaca for roadside presentations.. Visit Windows of the Earth Cave created by artist Ra Paulette who carved graceful sweeping high ceilings in sandstone chambers filled with streams of natural light and intricate sculptures carved in towering sandstone butte high above the valley floor.
At Cliff River Springs, we enjoy a relaxing 2-nights' lodging on a family-owned ranch at the edge of a riparian oasis of fruit trees and organic gardens of Ancient Waters Farm. Experience the soothing comfort of this quiet river valley nearby pond. Charming casitas, comfy beds and organic vegetable samples from their gardens in a landscape farmed for more than a millennia by Tewa-speaking Puebloans. Visit and eat with locals at the La Madera Apache Drums Community Center and the famous and funky El Farolito Café in El Rito.
Dr Kempter, PhD, University of Texas, is a former Fulbright Fellow, has conducted research in Costa Rica at Rincón de la Vieja Volcano, and spent years studying NM geologic history. He has served as astronaut instructor in the NASA Astronaut Training Program and leads study tours for Smithsonian Travel, Nat-Geo and Southwest Seminars, and makes learning complex geologic processes fun. Includes 2-nights lodging at Cliff River Springs, all meals, admissions, Study Leader honoraria. Limited enrollment, reserve early. $775 pp Double Occupancy