April
Rock Art and Archaeology of La Cieneguilla With David Grant Noble
Saturday, April 18 Filled
T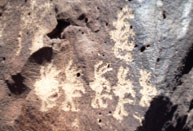 he Santa Fe River valley was used by all peoples who entered the area and an important concentration of thousands of ancient petroglyphs are found along a volcanic escarpment formed by lava. Our special visit to the southwest Santa Fe petroglyph site of La Cieneguilla features one of our favorite study leaders: David Grant Noble, noted and celebrated editor, photographer and archaeology writer and author. We will learn about the history and theories relating to Ancestral Puebloan rock art, migration of Tewa Pueblo peoples, Colonial Spanish exploration and settlement along El Camino Real (Royal Road). This area is also close to Keres Pueblo settlements in the late pre-contact period. Our hike will include some relatively flat trails on the mesa top, some rough uneven terrain along the boulder slope where the rock art is located, but will also include the short but steep rocky talus access to the mesa top, so please come prepared for this rugged landscape on the outskirts of Santa Fe which overlooks the important riparian stream banks of the beautiful Santa Fe River downstream from the city now featuring beaver dam ponds. Picnic lunch and Study Leader honoraria included. Limited space. $95 pp
May
San Felipe Feast Day with Alan Osborne
Friday, May 1 Filled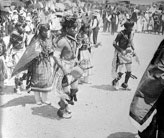 San Felipe is one of the most culturally conservative of all the Keresan speaking tribes and passionately retains their traditional religion and customs despite relentless pressures from the outside world. Although the Pueblo is not more than thirty minutes from Santa Fe, the fact that outsiders are not encouraged to visit has made it possible for them to maintain their individuality and resist the influences of modern life. Individual interests are subordinate to community values and responsibilities so that the strong ceremonial structure and the traditional rituals have kept the people as a vital and distinctive tribal entity with a proud heritage of ancient origin. At certain times of the year, however, they welcome visitors and the Green Corn Dances in May are the main attraction to outsiders and other Pueblo people as well. Hundreds of men, women and children dance throughout the day, accompanied by a male chorus, in the huge sunken bowl of the Plaza worn down by the centuries. (IPCC) $95 pp
Geology of La Bajada & the Santa Fe River Canyon with Dr. Kirt Kempter
Saturday May 9, 2015 FILLED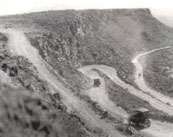 Have you ever driven up/down La Bajada and wondered what geologic story is told by all of the colorful rocks exposed on either side of I-25? If so, this outing is for you! Join Southwest Seminars and Dr. Kirt Kempter for a geologic exploration of the La Bajada area, a landscape dominated by ancient and young volcanic features. We will hike part of the old La Bajada Road, learning about the human history of the area and appreciating the broad vistas to the south and west. We will also visit the Santa Fe River canyon near La Cienega, including spectacular views of the canyon, and numerous Ancestral Puebloan petroglyphs. An optional hike will descend 400 feet into the canyon to view a remarkable petroglyph panel. The history of the Santa Fe River and its importance will also be discussed and will include the region's hydrologic system, which accounts for numerous springs in the area. Picnic lunch and Study Leader honorarium included. $95 pp
Archaeology of the Desert Archaic and Fremont Cultures: Rafting the Yampa and Green Rivers with David Grant Noble
May 20-27, 2015 Filled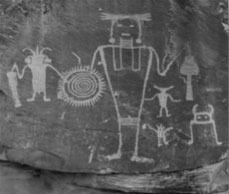 Join Southwest Seminars and David Grant Noble for an archaeological journey on the scenic Yampa and Green Rivers through Dinosaur National Monument. This 7-day, 7-night trip begins with a reception and a welcome dinner the first evening, followed by day exploring famous Fremont culture rock art panels and the Dinosaur Quarry. The highlight of the day is rafting for five days through 71 miles of vividly colored canyons while exploring prehistoric rock shelter and remote archaeological sites and 4 nights camping under the stars. We return to Vernal for a farewell dinner and one last overnight. The trip includes all lodging, meals, river and rafting arrangements and quality time with David Noble.
David Grant Noble is the author/editor of numerous books on Southwestern archaeology and history and has been guiding Archaeological Conservancy groups down the Yampa and Green rivers since 2000. The 4th edition of his Ancient Ruins of the Southwest: An Archaeological Guide is due to appear in 2015, as his a new edited volume, Living the Ancient Southwest. David will give talks at archaeological sites and talks in the evenings. We will learn about the archaeology of the Desert Archaic and Fremont cultures through David's lectures and hikes.
Trip Description: Meeting in Vernal, Utah on May 20, we will visit the Dry Fork Creek Petroglyphs near Vernal, one of the most famous rock art sites in the Southwest. In the afternoon we will explore the Dinosaur National Monument and see fossils of dinosaurs and other creatures that date back nearly 150 million years and visit the Swelter Shelter an archaic/Freemont rock shelter with petroglyphs
The river trip will begin at Deer Lodge Park in Dinosaur National Monument. We float through the beautiful canyons of the Yampa River for three days, reaching the confluence with the Green River in Echo Park, so-named by John Wesley Powell on his famous 1869 expedition. Along the way, we'll see the remains of a pioneer's cabin, a series of pictographs in the Barrier Canyon style, and Serviceberry Shelter, where Archaic hunter-gatherers camped millennia ago. We'll also hike to Mantle's Cave, a huge rock shelter where Fremont Indians stored an astonishing array of specialized items in storage cysts, now in the collections of the University of Colorado, Boulder.
In Echo Park we'll hike to two Fremont petroglyph panels and along the way cool off in Whispering Cave. After passing by some awesome geologic formations, we'll enter Whirlpool Canyon, also described in Powell's account, and camp where he did, at Jones Hole. We'll hike up the Jones Creek (good trout fishing) to Deluge Shelter, another Archaic camp, and view several Fremont pictograph/petroglyph panels of anthropomorphic figures. A short hike leads up Ely Creek to a waterfall.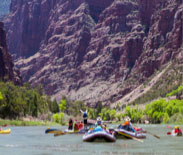 On our final day, we'll emerge from the canyons for a leisurely float through Rainbow Park followed by an exciting ride through Split Mountain and its series of rapids. The Yampa is the only remaining free-running, undammed tributary of the Colorado and its flow level depends on the winter snow pack and spring runoff. We'll experience low and medium-level rapids as we go. Set among towering red cliffs and ancient ponderosa pines, we may see a variety of wildlife, deer, eagles and big horn sheep along the shoreline.
Trip Details: The trip will be in 18-foot oar boats with 4 guests to a boat. Our outfitter will be Dinosaur River Expeditions, family owned and locally operated in Vernal Utah staffed by experienced and knowledgeable river guides that love sharing the beauty, the history and the wildlife of the mighty Yampa River of Colorado and the crystal clear waters of Utah's Green River of the Flaming Gorge. Our guides double as excellent outdoor chefs for our meals along the river. This is an active trip that involves hiking, rafting and camping.
Includes: This 7-day and 7-night tour includes: Full outfitter services for 5 days of rafting in 18' rowed boats including 4 nights camping (no charge for the stars). Three nights lodging at Landmark Suites in Vernal, Utah (2 nights before the rafting trip and 1 night after). All meals in Vernal and on the river. Study Leader honorarium, all gratuities, all admissions and fee for our service.
Cost: Double occupancy, $2,345 pp, Single Occupancy $2,500
Optional Sleeping kit (tent, bags, pad) $40 per person Registration Form Required.
$500 per person to reserve.
Balance in full due before or by April 1, 2015
June
Four Ancestral Sites of the Tewa: The Ojo Caliente Valley with Dr. Sam Duwe
Saturday, June 6 and Sunday, June 7 – Filled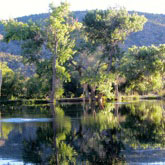 Explore three centuries of Tewa Pueblo history (A.D. 1300-1600) by visiting four important Classic Period Ancestral Tewa sites in the Ojo Caliente Valley northwest of Santa Fe. See architecture, agricultural fields, and ritual features in the context of some of the largest and best-preserved ancient Pueblo sites in the region. Learn Tewa history and how we use different techniques, archaeological review and Tewa oral tradition, to better understand their past. The sites include Ponsipa'akeri, (Saturday), a massive village which has been the subject of a newly constructed chronology of the site and allowing us to learn more about the process in which it was first settled and then grew as more people migrated into the valley; Pose'uinge (Saturday), one of the largest sites in the Rio Ojo Caliente Valley which has beautiful views of the valley and the river, situated above the Ojo Caliente hot springs; Howiri'uinge, bi-sected by a major highway in the 1950's, but with many important cultural features and Hupobi'uinge (Sunday), which features amazing rock art, agricultural grid gardens, and ritual landscape.Our overnight lodging will be hosted by Cliff River Springs, a family-owned ranch on 1,200 acres at the edge of the wilderness in a spring-fed oasis of fruit trees and the organic gardens of Ancient Waters Farm. Experience the soothing comfort of a quiet river valley and nearby pond, a welcome oasis in the heat of the summer. Charming casitas, comfy beds and organic samples from the garden will round out our archaeological day excursions. Time with Dr. Sam Duwe, Assistant Professor of Anthropology, University of Oklahoma and Director, Tewa Basin Archaeological Research Project will be a highlight of our trip as he shares knowledge of the Tewa and the region. We have reserved the seven casitas on the ranch, which ensures a special and private experience. This private tour includes lodging, all meals, and Study Leader honoraria.
$350 double occupancy or $450 single.
July
Santa Ana Feast Day with Alan Osborne
Sunday, July 26, 2015 Filled
Santa Ana's original location is unknown as all the members of the Pueblo either left or were killed during the Pueblo Revolt of 1680. Following the 1692-4 Spanish Reconquest, Old Sana Ana Pueblo (Tamaya), was founded 8 miles NW of Bernalillo. Tribal members usually maintain two places of residence, one in the farming community along the Rio Grande and the other a traditional home on the north bank of the Jemez River several miles away. The annual Feast Day held in honor of St. Ann features Corn Dance, a colorful spectacle which draws the entire Pueblo together as most of its population, nearly 700 people, return to the Old Pueblo (normally not open to outside visitors) for traditional ceremonies and visiting native arts and crafts vendors. (IPCC) $95pp
August
A Grand Expedition: Rafting the Grand Canyon
with Wayne Ranney and Dr. John Ware
August 21-30, 2015 New !!! Filled
There are many ways to salvation and one of them is to follow a river. David Brower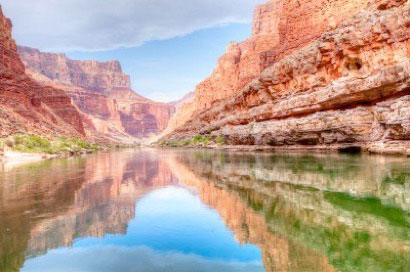 Join Southwest Seminars for the experience of a lifetime led by Geologist Wayne Ranney, author of " Carving Grand Canyon" and featuring 7 days rafting the Colorado River through the legendary Grand Canyon and 7 nights camping under the stars. We raft into the Canyon beginning at Lee's Ferry and exit the canyon via scenic helicopter and charter air. The trip includes hotel lodging and dinner the night before the excursion as Wayne sets the stage for our grand adventure and another night and dinner after the trip wraps up as we celebrate our amazing journey through this vividly colored canyon, a nine day study tour on the most coveted raft trip in the world.
Learn the story revealed in the thick sequence and variety of rocks exposed in the walls of the canyon which provide a record of the Paleozoic Era (550-250 million years ago). View scattered remnants of Precambrian rocks at the bottom of the Canyon. Discuss the origin of the canyon and how the complexity of erosional features of the Colorado River and precipitation created and continue to shape the canyon. Learn about the variety of species of mammals, reptiles, fish and birds that make the Grand Canyon home, including many threatened and endangered species and plants that have found a refuge in the Park's protected lands. Discover more about the 5000 year human history presence and importance of the canyon to ancestral Puebloan, Hopi, Havasupai, Navajo, Hualapai, Paiute and Zuni. Follow the story of the pioneering journey in 1869 of John Wesley Powell. All these features have made Grand Canyon National Park a World Heritage Site, a designation that honors the Grand Canyon's natural and cultural resources, a shared inheritance for all mankind.
Wayne Ranney is the author of "Carving Grand Canyon" and "Ancient Landscapes of the Colorado Plateau", which he co-authored with Ron Blakey. He holds a master's degree in geology at Northern Arizona University and leads tours for the Museum of Northern Arizona, The Grand Canyon Field Institute and the Smithsonian, including round the world trips by private charter. Wayne is in great demand as a lecturer and study leader. He has presented to Southwest Seminars to an always-packed house. His tours through the Grand Canyon are always sold out. We are delighted to have Wayne at the helm of our excursion and appreciate his knowledge and sensitivity to environmental exploration and geology education.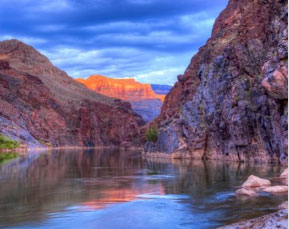 Trip Description: The Colorado River is The Best Known rafting location in the world. Our 190-mile trip between Lee's Ferry and Whitmore Wash has been selected by Wayne as covering the most scenic and geologically significant sites within the canyon in just the right balance of time on the river and off site exploration. We begin our journey with slow moving rapids, which increase in intensity as we travel further into the Canyon. There is plenty of whitewater excitement, including some of the most famous "drops and falls" in the world: Horn Creek, Hermit, Crystal and Lava Falls. As importantly we'll hike beautiful side canyons with cascading waterfalls, turquoise pools, and the cooling shade of hidden grottos and enjoy stargazing at night. Visit interesting historical sites only accessible by the river, study unique geological features, and gain a comprehensive educational perspective on the geology and natural history of this majestic canyon. Marvel at ever-changing vistas and panoramas revealed at each twist and turn of the river. Along with the amazing scenery and geo-education we'll enjoy periods of profound peace as we drift quietly through narrow corridors of polished granite.

Trip Details: The trip will be in 37 foot motored raft as they are the preferred mode of transportation for this kind of river excursion by Wayne, being more comfortable and safer for this kind of expedition. The motors are quiet and able to be turned off as opportunities for drifting allow. Our highly recommended outfitter, Colorado River & Trail Expeditions (CRATE) has been in business since 1971 and features knowledgeable, trained and experienced river guides, who are excellent outdoor chefs, enthusiastic river companions and certified in CPR, Wilderness Medicine and River Rescue. The weather is usually pleasant in late August. When it is hot, it will make those rapids so much more welcoming. Random thunderstorms might result in amazing waterfalls off the rim or cactus blossom along our journey. Our trip begins (1st day) with a welcome dinner and lecture by Wayne Ranney at Cliff Dweller Lodge in Marble Canyon, Arizona.
This is an active trip that involves 7 days of hiking and whitewater boating and 7 nights of camping under the stars (Days #2-8)
Our put-in is Historic Lee's Ferry, 13 miles below Glen Canyon Dam.
Enter Grand Canyon and within the first few miles begin our descent though the geologic layers, traveling 78 miles by river to the bottom of this great stack of rocks.
Run Badger, Soap Creek and House Rock rapids.
Float deeper into the Marble Canyon section of the river and see lush green spring of Vasey's Paradise stopping at Redwall Cavern, a vast alcove that J.W. Powell estimated would seat 50,000 people.
Hike to ancestral Puebloan habitation sites, rock art sites or granaries. Hikes are optional (but recommended).
The canyon is truly Grand Canyon as we float downstream to the turquoise blue waters of the Little Colorado River, the spiritual birthplace of the Hopi Fourth World. The canyon begins to open up as we encounter Tanner, Unkar, Nevills and the formidable Hance Rapid.
We reach some of the biggest whitewater in the canyon as we enter the Inner Gorge.
•Make a quick stop at Phantom Ranch, designed by architect Mary E. Jane Coulter in 1922 as a tourist camp, it's style was later adapted to most National Park Service locations.
On one of the biggest whitewater days in the canyon, a stretch of river known as the "Jewels", we encounter Crystal, Sapphire, Turquoise and Ruby rapids
Enjoy a hike to the green haven of clear pools, lush moss and ferns at Elves Chasm
View an excellent example of the geological phenomenon, the Great Unconformity at Blacktail Canyon
Enter the Middle Granite Gorge and a series of exciting rapids – 128 mile, Specter, Bedrock and Dubendorff
Enter the Granite Narrows, the canyon's narrowest point and visit Deer Creek Falls for a refreshing dip in the clear pool beneath the falls.
Hike the limestone terraces and the travertine pools and waterfalls of Havasu Canyon.
Raft the notorious Lava Falls in the depths of the Grand Canyon near the end of our journey.
Arriving at Whitmore Wash, we board a helicopter for a scenic flight out of the canyon, followed by charter flight returning us to Marble Canyon for farewell dinner with Wayne and those often dreamt about beds. (Day #9)
Departure following breakfast the next morning (Day #10)
Includes: 9 day and 9 night tour includes: Full outfitter services for 7 full days of rafting in 37' motorized rafts and 7 nights deluxe camping including cots, foam pad, sleeping bags, chairs, tents (and stars), 2 nights lodging at Cliff Dwellers Lodge, all meals at the lodge and on the river. Helicopter/airplane flight transfer back to Lee's Ferry, Insurance for emergency evacuation and river medical care included. Study Leader honorarium, all gratuities and admission and fee for our service.
Cost: Double Occupancy: $3995 per person, Single Occupancy $4,095.
$500 pp. deposit to reserve due October 30, 2014. Balance in full due May 15, 2015. Registration Forms Required
September
Coronado's War in the Rio Grande Valley with Dr. Matt Schmader
September 26, 2015

We have learned more about the Coronado Expedition in the past 25 years than has been pieced together in a century of prior work. Explore the relationships between settled Puebloan villages along the Rio Grande and early Spanish-led expeditionaries. Dr. Matt Schmader's. dedicated and sensitive archaeological work has focused on the contact and conflict between the forces of Coronado, which included over 1,000 Mexican Indian mercenaries, against villagers and warriors of several southern Tigua (Tiwa) Pueblos, resulting in the devastating Tiguex War between the people of stone and the intruding people of steel. We will take a short hike to Piedras Marcadas Canyon, where the first petroglyph of a horse known in the United States is found amid a rich concentration of petroglyphs, most of which were created a century before European contact. Appreciate the context, and underlying meanings of this powerful ritual and sacred cultural landscape. Here we will discuss
aspects of Pueblo worldview and cosmology and review the Tiwa presence in the Rio Grande valley for two centuries before Spaniards arrived. At mid-day a lecture at the Open Space Visitor Center where we can learn about artifacts recovered on-site at Piedras Marcadas Pueblo, the largest of the known native communities along the Rio Grande in the mid 16th century, and the scene of a fierce battle between its Pueblo defenders and the forces of Coronado, whose massive 1540-2 entrada was larger than the initial invasion force of Mexico under Cortez. Afterward we tour this impressive pueblo site and learn about the battle sequence based on careful analysis and using, at native urging, non-invasive techniques employed by archaeologists, Dr. Schmader is an engaging archaeologist and serves as Superintendent of the City of Albuquerque Open Space Program and has consulted closely with native communities to expand the base of knowledge of this important chapter of New Mexico's past. Includes transportation, lunch, and Study Leader honorarium. $95 pp
October
Ute Mountain Tribal Park: Ancestral Pueblo Sites Seldom Seen
October 2-3, 2015
Located on Ute Mountain tribal lands, this park was a 1911 compromise: between the United States taking tribal lands and the visionary leadership of Jack House, son of the Ute Chief Acowitz, who in the 1880's tipped off the legendary Wetherill brothers to the existence of fantastic ancient Pueblo sites in Lion and Johnson Canyons in the Southwest. This led to a race for claimants to the treasures, the search and disappearance of artifacts along with the creation of a brisk trade in antiquities looted from these sites before federal laws were enacted to preserve them. Protecting these lands from Anglo incursion, touristic curiosity and the federal government has created a seldom visited trove of four well-preserved canyon cliff dwellings requiring three miles of hiking and climbing five ladders when accompanied by a Ute tribal guide. While millions visit Mesa Verde National Park, which borders Ute reservation lands, these are seldom seen and striking sites that have not been stripped of their ancient presence and essence. Details TBD
Uncovering the Past Fred Harvey, Harvey Hotels, and Harvey Girls with Meredith Davidson
October 17 and 18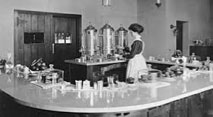 Step back in time to the late 19th century as we ride the train from Lamy, to Las Vegas, NM on the tracks of the old Atchison, Topeka and Santa Fe Railroad to visit three historic hotels: Castaneda, Plaza, and Montezuma. After a warm welcome by a Harvey Girl we will get a detailed description of what railroad passengers experienced as they will bring back the deep appreciation of those magnificent days when the customer was king and the Harvey Girls, 'those respectable young women' and Couriers were ambassadors of impeccable service and local culture. We will learn about Fred Harvey, the Englishman who founded the hotel and restaurant chain. We'll tour the famed Castaneda, newly purchased and under renovation by its new owner, Allan Affecldt (or resident partner), who also restored La Posada, the Harvey Hotel in Winslow, Az. We'll enjoy dinner, a lecture, and overnight at the historic Old Plaza Hotel, built in 1889. On the next day, accompanied by our modern Harvey Girl we will tour the legendary Montezuma Hotel, now part of the United World College campus. Las Vegas has over 900 buildings listed on the National Register of Historic Places. Meredith Davidson, an enthusiastic young scholar, is Curator of 19th and 20th Century Southwest Collection, for the New Mexico History Museum and curated the current permanent exhibition, Setting the Standard: The Fred Harvey Company and its Legacy. Return to Santa Fe via van. Includes train and van transportation, lodging, meals and speaker honorarium. $325pp Double Occupancy, $375 pp Single