JANUARY
San Ildefonso Feast Day Buffalo Deer Dances with Dora Tse Pe
Thursday, January 2 Sorry , Sold Out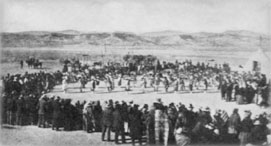 Join us for a special visit to San Ildefonso Pueblo, one of the best-known New Mexico Pueblos because of the famous black-on-black pottery, which originated there and was revived in the1920s. The San Ildefonso people have lived in the present site for seven centuries. They have a strong sense of identity and retain ancient ceremonies and rituals and dances tenaciously. A particularly important festival is the winter Buffalo and Deer Dance. It is with anticipation that we look forward to spending time with our dear friend, Dora Tse Pe, the legendry potter and San Ildefonso resident as well as her family who have invited us to share a feast meal with them on this important occasion. Includes transportation and sharing food at Dora's home. Our mission is to arrive before dawn so we witness the entrance into the village of the deer and other animals. $95 pp
FEBRUARY
Candelaria Day at San Felipe and Santo Domingo Pueblos with Alan Osborne
Sunday, February 2 Filled
Join Alan Osborne and attend Candelaria Day festivities at both San Felipe and Santo Domingo Pueblos, both Eastern Keres villages on the banks of the Rio Grande, where traditional and culture are closely held and tenaciously kept. We will visit friends who have invited us to feast with them as they observe this important saint's religious day in the Pueblos. Limited pace available. $95
Acoma Governor's Feast Day with Alan Osborne
Sunday, February 16 Sorry, Sold Out
We have been invited to the Acoma Sky City Governor's Feast Day where we will feast at the home of the governor and his family and witness celebratory observances of this important event where tribal members renew their culture, language and native religion. $95 pp.
MARCH
Archaeology & Geology of Arroyo Hondo With Dr. Jason Shapiro and Dr. Kirt Kempter
Saturday, March 1 Sorry, Sold Out
Arroyo Hondo is an important Ancestral Puebloan site on the outskirts of Santa Fe. It was extensively studied and researched by School of Advanced Research (SAR) in the 1970's and has been the subject of nine monographs and numerous scholarly articles. The site was occupied in two separate and distinct phases more than six centuries ago, and at its height was comprised of approximately 1,000 rooms. The significance of Arroyo Hondo is that it was one of the earliest large, aggregated pueblos built during a period when settlement patterns throughout the northern Rio Grande were evolving in the direction of large towns located near dependable sources of water. We will have an archaeological tour of this important cultural site, owned by the Archaeological Conservancy, with site steward and noted author, and archaeologist, Dr. J. Shapiro.
Our geology scholar, Dr. Kirt Kempter will give us the earth science context of the natural setting. The site overlooks the largest drainage on the south side of Santa Fe which exits the foothills of the Sangre de Cristo and flows southwest to an eventual confluence with Arroyo de los Chamisos southwest of Cerrillos Road. The 100 feet deep lovely canyon carved is near the foothills and exposes several rock units from the Proterozoic to the Quaternary. These units tell several stories of the changing landscape in the Santa Fe area through time. Hike a trail down into the canyon and see rock units exposed in the canyon bottom and sides. One interesting unit is a dense, fluid lava flow that was erupted in the area approximately 30 million years ago, overlying older sediments that also indicate abundant volcanic activity along the southern margin. $75pp
APRIL
Best of Southern Utah: Zion and Snow Canyon With Dr. Kirt Kempter
Tuesday –Saturday April 1-6 Filled to Perfection

Join geologist/vulcanologist Dr.Kirt Kempter for an intimate exploration of Utah's Snow Canyon State Park and Zion National Park. These two parks are geologic showcases for the Jurassic Navajo sandstone, the largest petrified dune field in the world. Over 2000 feet of Navajo Sandstone form massive cliffs within Zion Canyon, creating one of earth's grandest geologic settings. This tour will include 2 nights in St. George, Utah, just a few minutes from Snow Canyon State Park, where geologically young volcanoes poured dark basalt lava through spectacular canyons of red and white Navajo sandstone.
The juxtaposition of young lava and old sandstone makes for a wonderful geologic setting and story. We then travel to Zion National Park where we will stay in the park at the renowned historic National Park Service Lodge cabins, Zion Lodge for 3 nights. Our days at Zion will include visits to more remote corners of the park, such as Kolob Canyon in the northwest, and the more central Kolob Terrace Road, where we will hike the scenic Northgate Peaks Trail. Several easy to moderate hikes will be offered within Zion Canyon, including Echo Canyon, Weeping Rock, and the Riverside Walk. The close proximity of Snow Canyon and Zion will allow us to spend significant quality time in both parks, with less highway travel.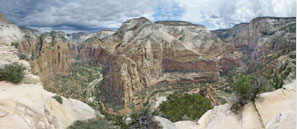 The trip begins in St. George Utah, which is accessible via direct flights from Albuquerque. If you prefer, drive to St George using this as an opportunity to visit other nearby scenic sites before or after our tour, such as Grand Canyon's North Rim, Bryce Canyon, and Escalante/Grand Staircase National Monument. Coral Hills Best Western will serve as our base for two nights to explore beautiful Snow Canyon. On Day 3 we begin our exploration of Zion, lodging for three nights in individual historic cabins right in the heart of Zion National Park, a very special opportunity indeed. Featuring gas log fireplaces and a private porch at each cabin, we promise a bit of quiet time to enjoy the majesty of one of our favorite U.S. National Parks plus lots of time with everybody's favorite Study Leader, Dr. Kirt. Includes transportation during the tour, fees and admission, honoraria and all meals. Photos by Dr. Kempter. Very Limited space.
$1900 double occupancy, plus $425 single occupancy. $500 deposit to reserve.
MAY
Pueblo Society and Polity: 1500 Years of Culture Change and Continuity Dr. John Ware
May 16-23, 2014 Filled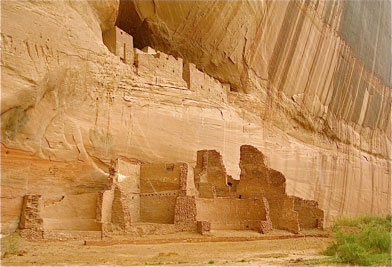 When sixteenth-century Spanish explorers first set foot in what is now Arizona and New Mexico, they encountered people who lived in large multistory apartment buildings of stone and adobe enclosing communal plazas. The Spanish referred to these people as Pueblos (Spanish for "towns"), no doubt to distinguish them from the region's ranchería dwellers and nomads. Classifying people by settlement pattern and architecture, the most visible of cultural expressions, may be a natural thing for explorers to do, but the label "Pueblo" glossed over considerable cultural variability. The people the Spanish called Pueblos spoke at least seven mutually unintelligible languages (six are still spoken today) from four different language families, and their linguistic diversity was mirrored in many of their social, economic, and religious practices and institutions. They were not, in other words, a monolithic culture, but several different peoples who shared cultural practices. The wealth of data on Pueblo culture, from three thousand years ago to the present day, provides an ideal laboratory for the study of culture change. Few places in world provide so much historical information, over so many centuries, on cultures that thrive today.
Join John Ware, Porter Swentzell (Santa Clara), and Connie Eichstaedt for a seven day tour of the Ancestral Pueblo world to visit the sites highlighted in Ware's new book from the SAR Press, A Pueblo Social History. We'll visit the contemporary Eastern Pueblos of Cochiti and Jemez, the Western Pueblos of Hopi and Acoma, and Ancestral Pueblo sites in Chaco, Mesa Verde, the San Juan River Gorge, and Canyon de Chelly. Participants will be regaled with stories of the Pueblo past from an archaeologist (Ware) and Native Pueblo scholar (Swentzell), and view the spectacular landscapes of the Southwest 4-Corners from the comfort of a modern coach (with on-board restroom!). An all-day raft trip down the San Juan River with Wild Rivers Inc. of Bluff will highlight the trip, and optional tours will be offered to rock art sites near Bluff and the Hopi Villages of northeastern Arizona. Those who have accompanied Ware and Governor Joseph Suina on past Pueblo World Tours will visit many of the same destinations but see many new sites, and you'll be able to follow along with Ware's commentary on Pueblo social history with an advance copy of his new critically acclaimed book. On the Saturday following the tour we'll visit Cochiti Pueblo for a tour of the community by this year's Cochiti Governor, Dr. Joseph Suina. Includes 7 full days of activities and 8 nights in favorite lodging in scenic locations, and featuring the interplay and dialogue which accompanies scholarly discussion and debate. We are proud to offer this unique opportunity, a Must-Do for all lovers of the Southwest culture and landscape, especially when accompanied by such exceptional scholars. All expenses covered coach transportation, admissions, all lodging and meals, donation to tax deductable donation to the Amerind Foundation. $2,500 pp
June
Tewa Ethnogenesis With Dr. Scott Ortman
Tuesday, June 17: Sorry, Sold Out
Dr. Scott Ortman will lead us on a very special tour of the Santa Clara Tribal Park at Puye Cliff Dwellings. These ancestral Puebloan sites figure prominently in his ethno genesis research on Tewa Pueblo origins, migrations, settlement patterns, and history. He is able, using linguistics, metaphors, architecture, and material culture, to follow ancestors on their long journey south from Mesa Verde and the San Juan River Basin. On this day trip, we will see remains of Tewa houses dating from the 14th century, much evidence of pottery as well as other artifacts in situ. The site contains lots of petroglyph panels, spectacular views and a large important ancient Santa Clara village that includes a reconstructed kiva. We begin to learn how Tewa people understand their own unique history and become witness to the kind of collaborative work Scott and tribal members have been doing to link the native understandings to Southwestern archaeological research. We will have a picnic lunch on site and finish with a visit to a Santa Clara pottery-making family for a demonstration of their famous deep-carved black and red ware, which often features the water serpent, or Avanyu, as well as other symbols and imagery significant to the Tewa villages of the northern Rio Grande. Price 110 pp
October
Beyond Downtown Chaco: Teh So, Tsin Kletsin , Pueblo Alto and Pueblo Pintado
with David Grant Noble
October 8-10, 2014, Filled, Wait List Accepted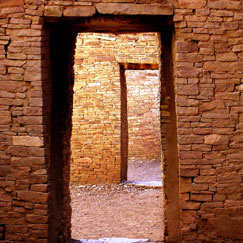 Explore beyond 'Downtown Chaco' to some less visited sites and appreciate the larger Chaco region, including Tseh So and sites where the University of New Mexico conducted field schools. We will hike the 3.6 miles South Mesa Trail Loop to Tsin Kletsin, (3 hours) on the South Rim with a visit to the important great kiva at Casa Rinconada. The next day we'll hike the (5 mile/4 hour) North Mesa Trail Loop to Pueblo Alto, adjacent to the Great North Road, and the famed Jackson Staircase with magnificent canyon overviews of the Pueblo Bonito and Kin Kletso . We'll also visit the largely unexcavated Hungo Pavi site near the Visitor Center, tour the museum file and its important exhibits, as well as the magnificent Chetro Ketl and Pueblo Bonito. On the way home we'll tour the Great House outlier Pueblo Pintado.
Our 3-day 2-night visit will be centered at the Chaco National Park campground, where our outfitters will provide a luxury and restful camping experience, including catered delicious food and shelter on-site under the stars and the night sky's pantheon of other heavenly bodies. With less driving back to town for overnight lodging in a town, we will see more…nature, birds, plants, landscape, the sky…basically the full day and night Chaco experience. This study tour is designed to experience 2 backcountry trails while still visiting Great Houses within the central 'downtown' area of Chaco Canyon Culture National Historic Park, a UNESCO World Heritage Site. Includes transportation, luxury lodging with tents, sleeping bags and mattresses. All meals, admission and study leader honorariums provided. $700 per person.