April and May
Rock Art, Archaeology and Geology of La Cieneguilla With David Grant Noble and Dr. Kirt Kempter
May 16 Sold Out
The Santa Fe River valley was used by all peoples who entered the area and an important concentration of thousands of ancient petroglyphs are found along a volcanic escarpment formed by lava. Our special visit to the southwest Santa Fe petroglyph site of La Cieneguilla features two of our favorite study leaders: David Grant Noble, noted editor, photographer and archaeology writer; and Dr. Kirt Kempter, geologist/vulcanologist, photographer, whose research interests take him around the world as an expedition leader for Smithsonian Travel and Nat Geo study tours. Between them, we'll learn about the history and theories relating to ancestral rock art, migration of Tewa Pueblo peoples, Colonial Spanish exploration and settlement along El Camino Real (Royal Road), plus fascinating concepts of earth science, significant geographic landscape and visible volcanic features young and old we see in this region, as well as the causes of the rise of the majestic Sangre de Cristo Mountains. We will also review the local hydrology and understand the presence of many natural springs nearby. Our short hike will include some relatively flat trails, some rough uneven terrain and will include a short but steep rocky talus access to the ridge top, so come prepared. Lunch and Study Leader honoraria included. Limited space. $75 pp
June
Tewa Grid Gardens: Pueblo Agriculture on the Rio del Oso & Posi-ouinge with Dr. Richard I. Ford
Saturday, June 8 Sold Out
Explore the archaeological remains of pre-Hispanic Pueblo water-control and farming practices in two locations with Dr Richard Ford, retired University of Michigan and Research Associate, Museum of Indian Arts and Culture/Lab of Anthropology, MNM. We'll visit the Rio del Oso north of Espanola where we will examine hand dug reservoirs, irrigation ditches, diversion dams, lithic mulch fields, agricultural shrines, and petroglyphs. The second stop will be at the Ojo Caliente mineral springs. We will tour the very important Tewa Pueblo site of Posi-ouinge, examine a very large dam, hillside farming with stone water control features, terraces, extensive pebble mulch fields, field petroglyphs, and a large world quarter shrine. Dr. Ford will lecture at both locations about ancient Tewa farming practices and Tewa history and stories related to these sites. Includes transportation, relaxing lunch at Artesian Restaurant at Ojo Caliente Resort and honoraria for Study Leaders. $95 pp
July

Natural and Geological History of the Valles Caldera Interior With Dr. Kirt Kempter
Wednesday, July 17
Our journey this day will take us inside the Valles Caldera National Preserve, exploring the fascinating geologic story told by rock exposures inside the caldera. Since the massive eruption that produced the caldera 1.2 million years ago, the caldera has experienced profound changes, involving resurgent uplift, numerous volcanic eruptions, lakes, and erosion of the rim. We will traverse across numerous scenic valleys inside the caldera, including Valle Grande, Valle San Antonio, and Valle Toledo, including if road conditions allow, a stop at Obsidian Valley, one of the major obsidian quarries utilized by Native Americans for centuries. Tour Conditions: Easy. Includes transportation, admissions, gourmet picnic lunch and honorarium for Study Leaders. $95 pp
Supervolcanoes of the San Juans: Majestic Mountains, Mineral Springs, & Mining Towns of Southern Colorado With Dr. Kirt Kempter, Vulcanologist
July 24-27, 2013 SOLD OUT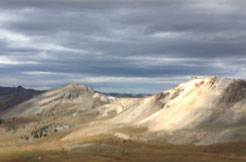 Eighteen giant calderas, or "supervolcanoes", erupted in southwestern Colorado between 30-25 million years ago, forming much of the modern San Juan Mountains. These eruptions left craters several miles in diameter, including the largest known eruption in Earth's known history, the La Garita Caldera, erupting 5,000 cubic kilometers of magma about 28 million years ago.
Join Southwest Seminars and Dr. Kirt Kempter for a 4-day geologic exploration of the Creede and Lake City and Pagosa Springs, region of Southern Colorado, where four of the massive supervolcanoes eruptions occurred. Enroute from Santa Fe we will discuss the geologic history of northern New Mexico and southern Colorado, traveling north through Taos and west across the majestic San Luis Basin. Appreciate the area's fascinating human history, including early hunter/gatherers, later Ancestral Puebloans, Utes, Spanish explorers, legendary Mountain men, intrepid pioneers, tenacious miners, American soldiers and hardy settlers, all of whom managed to leave an indelible presence in the lands through which we travel.
• Exploration of the San Juan Mountains, Colorado site of at least 18 supervolcanic eruptions between 25 – 30 million years ago.
• Half day raft trip on the Rio Grande traversing the Creede Caldera, followed by a geologic tour through the Creede mining district.
• Half day 4×4 excursion of the American Basin during wildflower season
• Travel across the La Garita Caldera, the largest known volcanic eruption in Earth history. Visit the scenic North Clear Creek Falls and the spectacular Slumgullion landslide en route to Lake City. Enjoy the western charm of historic mining camp towns of Creede and Lake City.
• Visit the renowned geothermal waters of Pagosa Springs, a river walk and a memorable soak in the mineral waters, returning via the scenic Piedra Lumbre Valley.
August
Comanche Camp Sites With Dr. Severine Fowles and Jimmy Arterberry, Comanche Tribal Historic Preservation Officer
Saturday, August 3
Visit an early 18th Century Comanche camp, a site which encompasses where lodges were erected as well as ritual sacred areas beyond the dwellings. We'll be led by Jimmie Arterberry, Comanche cultural liaison, and archaeologist Dr. Severin Fowles, Barnard College/Columbia University, whose field school has been working at these sites on the upper Rio Grande in an important cultural area also significant to northern Tiwa Pueblos and Jicarilla Apache peoples through time. This early location is significant as the Comanche, whose aboriginal homelands lie farther north in Wyoming, is an indication of early and aggressive migratory movement as the horse culture spreads throughout the Great Basin and Northern Plains through the Southern Plains and Llano Estacado where the Comanche will eventually build an empire. This day trip will include Transportation, Study Leader honoraria, and Lunches. $95 per person
Zia Pueblo Feast Day Corn Dances with Alan C. Osborne and Dora Tse Pe
Thursday, August 15
Join us for a special visit to Zia Pueblo feast day dances. Zia achievements in pottery and other arts and crafts, their storied history as well as spiritual tenacity are legendary. Their mission church and plaza and the village and surrounding hills and mountains are powerful spiritual forces. We'll be like trees: silent observers, important witnesses, participants in the continuing strength of Keres Pueblo culture here today. It is with anticipation that we look forward to spending time with legendary potter and Zia native, Dora Tse Pe and her family who have invited us to visit and share a feast meal with them on this important occasion. Includes transportation, nice lunch, and honorarium for Study Leader. 95 pp.
September
Sacred Sites, Sacred Places With Alan Osborne
Friday, September 6
Journey to sacred sites in northern New Mexico, which are spiritually significant to different traditions, which have made a mark on New Mexico's cultural and religious landscape. Our purpose will be to enhance our appreciation and understanding of these special sacred places and the spiritual traditions which hold them dear. Visits include (subject to change): Upaya Buddhist Zen Center, Sikh Dharma in Sombrillo, Plaza Blanca and Dar al Islam in Abiquiu, and Christ in the Desert Monastery overlooking the Chama River, the Sikh Dharma in Somlbrillo, Our day will be filled with opportunities for reflection and awareness on the different paths for restoring balance and harmony in our world. Includes transportation, lunch, and Study Leader honoraria. $95 per person
Tsiping'uinge With Dr. Samuel Duwe
Sunday, September 29
This excursion will visit the remote site of Tsiping'uinge, an ancestral Tewa village on the northwest edge of the Tewa world. Located in the shadow of Pedernal Peak, Tsiping'uinge was occupied from A.D. 1312-1350 and is possibly one of the places where immigrants from the Four Corners region entered and settled the northern Rio Grande region. We'll explore the site's well-preserved architecture, cliff dwellings, artifacts, rock art and trails, and the world-quarter shrine all while overlooking the stunning Piedra Lumbre made famous by Georgia O'Keeffe. Travel to this rarely visited site with Dr. Sam Duwe, assistant professor in the Department of Anthropology and Applied Archaeology and Director of the Tewa Basin Archaeological Research Project at Eastern New Mexico University. Hikers wanted for this rare opportunity. Includes lunch, Forest Service admission and study leader fees. $110 per person.
November
Jemez Feast Day Dances with Alan C. Osborne
November 12
Attend the Jemez Pueblo feast day dances and witness an age-old religious ceremony, one of the only occasions outsiders may visit the Jemez Pueblo village of Wallatowa. We will also visit the Jemez State Monument, a 17th century Spanish Mission church, and the ancient village it was built near, now operated by the New Mexico State Monuments Division, as well as a delightful lunch at Deb's Deli in Jemez Springs, a resort community in the beautiful valley of the Jemez River. Bring folding chair, no cameras, sketching, or recording permitted. Study Leader, transportation in a van, Jemez Monument admission and delightful lunch included.
$95 per person