TRAVEL into the  geologic history of spectacular Grand Staircase–Escalante National Monument and Capitol Reef National Park with the  exceptional Wayne Ranney and the equally exceptional Dr. Kirt Kempter. Join Southwest Seminars on a seven-day, six-night exploration of southern Utah where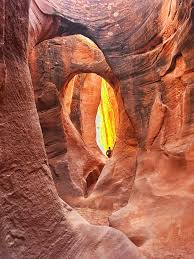 vistas abound and high-standing plateaus and mesas loom over deeply dissected canyons. Visit the stunning Waterpocket Fold where strata have been bent into a 1,000-foot high spectacular hogback. Hike among the petrified wood that abounds within the colorful Chinle Formation amid concentrations of giant fossilized logs. Explore slot canyons where relatively recent and rapid erosion has incised the sandstone. Delicate hoodoos at the Devils Kitchen will be seen along the Hole-In-The-Rock Road where Mormon pioneers trekked through the red rock wilderness in 1880. Visiting in early autumn allows us to drive in the spectacular high country with golden aspens and Douglas fir trees framing the red rocks.  Views stretch literally for 100 miles. Grand Staircase-Escalante and Capitol Reef are truly landscapes of world-class significance.  Hikes through diverse landforms, excellent accommodations, outstanding restaurants, and time with both Wayne and Kirt make this a trip not to miss.
WAYNE RANNEY is an award-winning geologic educator and author, Carving the Grand Canyon;Co-author, Ancient Landscapes of the Colorado Plateau. He holds an M.S. in geology from Northern Arizona University and has led many tours into the Grand Canyon and the Colorado Plateau region including for Museum of Northern Arizona, Grand Canyon Conservancy Field Institute, Smithsonian Journeys, and National Geographic world tours by private jet. Wayne is a popular public lecturer and study leader.
DR. KIRT KEMPTER is a Fulbright Fellow who holds a doctorate from University of Texas-Austin. He is a world-traveling vulcanologist and independent field geologist. He is much in demand as a study leader for organizations such as National Geographic, Smithsonian Journeys and Southwest Seminars. Kirt was an instructor for the NASA astronaut-training program and worked for New Mexico STATEMAP program, NM Bureau of Geology and Mineral Resources at New Mexico Tech.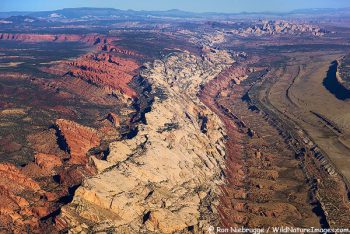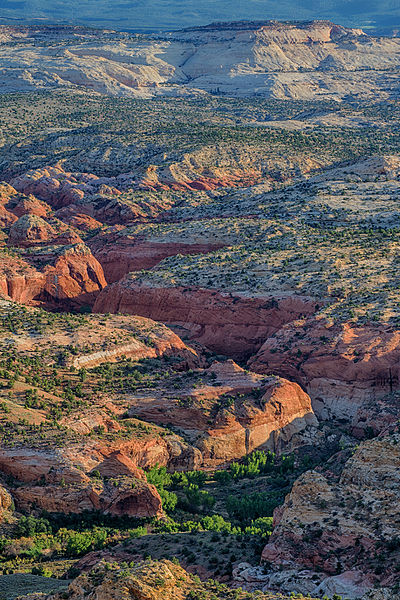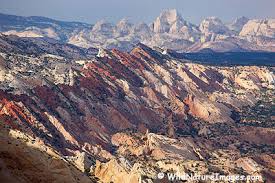 WE MEET in Bluff on Monday afternoon  in time for a hike  to a spectacular abandoned meander canyon on the San Juan River.  Cut off in the recent geologic past, this meander provides a superb example of a gooseneck detachment, leaving an almost 360-degree canyon loop abandoned and dry.  Check into landscape inspired Bluff Dwelling Resort for a geo-talk with Wayne & Kirt and dinner together.
We'll travel to the town of Boulder in our cars via the Moki Dugway, visiting the spectacular Muley Point, crossing Lake Powell on the John Atlantic Burr Ferry from Bullfrog to Hall Crossing. (Travel up the legendary scenic Burr Trail.), checking into Boulder Mountain Lodge our home for the next 3 nights. On Wednesday morning we hike (5.5 mostly flat miles) past pictographs to Calf Creek Falls, a verdant oasis amid tumbled stone monoliths of the desert. In the afternoon hike and climb less than one-mile to a set of petroglyphs with views down to the Escalante River. Explore the Hole-in-the-Rock area of Grand Staircase-Escalante on Thursday as we learn about Mormon pioneer history along the way. Visit Devil's Garden hiking one-half mile into a wonderland of Entrada Sandstone hoodoos, domes, narrow passages, and small arches. Peek-A-Boo Canyon and the Dry Fork of Coyote Gulch, among the most beautiful slots in the area, is a 3-mile hike. Stunning orange sandstone walls, Moqui Steps and logs wedged between canyon walls are a sight to behold.
Journey to Capitol Reef National Park on Friday via the incredible Burr Trail. Visit Long Canyon Slot. Hike 1.5 miles to the Wolverine Petrified Wood Area, the second largest fossilized forest of its age in North America, part of an ancient terrestrial ecosystem that existed in southern Utah at the beginning of the Age of Dinosaurs. If road conditions allow we hike one-mile RT to Strike Valley Overlook, an awe-inspiring viewpoint offering expansive views of 100-mile long Waterpocket Fold. Marvel at the spectacular rugged beauty of the Burr Trail Switchbacks, one of the few passages across the Grand Staircase, then north on the Notom Road Scenic Backway alongside Capitol Reef. Continuing to Torrey, Utah, check into our luxurious cabins at Capitol Reef Resort. On Saturday hike 3-miles along Cohab Canyon Trail, 2-miles to the large natural arch of Hickman Bridge and 1-mile on the impressive Capitol Gorge Trail which features petroglyph panes, historic signatures, water pockets, and dry falls. Overnight at Capitol Reef Resort.
After a leisurely Sunday breakfast return home, a nine-hour drive to S.Fe if you don't dawdle. Or consider visiting nearby scenic Bryce Canyon, Cottonwood Canyon Road or Natural Bridges before you return.  Savor memories of colorful cliffs, massive domes, soaring spires, stark monoliths, twisting canyons and graceful arches as you journey home on your own.
LODGING: Daytime hikes in rugged landscapes will be tempered by 6 nights of luxurious accommodations and excellent restaurants. We spend 1-night at the Bluff Dwelling Resort, new fine lodging designed to reflect the red rock landscape of the region. We have 3-nights at the Boulder Mountain Lodge, nationally recognized as an oasis of tranquility amid rock canyons and mountain forests. The rooms feature decks or patios and fabulous views along an 11-acre bird sanctuary. We have two nights in the cabins of Capitol Reef Resort and enjoy private verandas and stunning views of the Red Rocks Cliffs.  Evening time sitting in front of the fireplace, soaking in the hot tub or stargazing, along with dinners together, will fill our evening hours.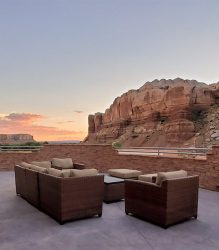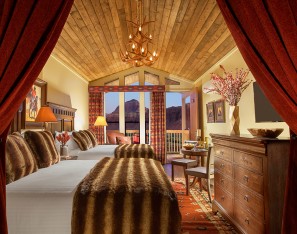 MEALS: All meals are included in this trip. Full breakfasts, picnic lunches in nature and dinners in the nicest restaurants we can find. We are especially excited to be sharing breakfasts and dinners at Hells Backbone Grill in Boulder which enjoys one of the highest Zagat ratings in Utah and was selected as a James Beard Award Semifinalist in 2017, 2018, and 2019. Jen Castle and Blake Spalding, Chef/Owners, operate the restaurant following Buddhist principles with commitment to sustainability, and community responsibility, serving organic, locally resourced cuisine and featuring many fruits and vegetables from their six-acre farm.
DISTANCES & WEATHER: Hiking distances listed are round trip. Most of the hikes are moderate or easy. Late September is an ideal time of year for hiking, we look forward to blue skies and moderate temperatures. Mother Nature may be unpredictable. Sometimes temporary storms affect road or trail conditions. Alternate routes will be substituted if required. We will follow Covid-19 health and safety protocols as recommended at the time of this trip. We will be driving our own cars as much as possible, basically to Boulder/Torrey and back.  Vans may be used for travel to restricted trailheads.  We will advise you if there are significant changes to the itinerary and be flexible if health and safety issues remain.
INCLUDES: This seven-day, six-night trip includes lodging for 6-nights (1 night in Bluff, 3 nights in Boulder and 2 nights in Torrey), all meals: full breakfast, picnic lunches and nice dinners, admissions, permits, educational programing and honoraria for our exceptional co-study leaders
$3900 DOUBLE OCCUPANCY,     SINGLE OCCUPANCY $4600      $500 DEPOSIT TO RESERVE
Completed vaccinations will be required for all 2021 Southwest Seminars Tours